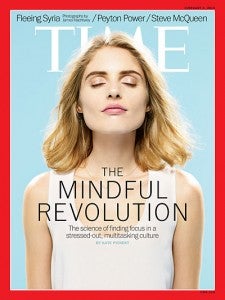 Photograph by Peter Hapak for TIME
Time Magazine writer Kate Pickert sits in a class on Mindfulness Based Stress Reduction asking how we can find peace and happiness in a world of constant distraction. Ms Pickert is reporting on the rising popularity of mindfulness as a practice to address this increasing problem. Current studies support the claim that mindfulness offers definite benefits.
If you would like to enhance your basic practice, learn how to apply mindfulness in a healthcare setting, explore mindfulness via writing, or discover how the brain can be your ally rather than your tormentor, we have a new schedule of classes starting soon.  Please check out our upcoming offerings.
Filed Under: Monthly Musings