Common Condition in Older Men Can Cause Sexual Dysfunction, Frequent Urination
University of Virginia Health System researchers are examining a non-surgical treatment for lower urinary tract symptoms caused by an enlarged prostate.
Also known as benign prostatic hyperplasia (BPH), an enlarged prostate is a common condition unrelated to cancer that affects about 210 million men worldwide, according to researchers from UVA's Division of Interventional Radiology and Department of Urology. By age 80, 9 of 10 men have an enlarged prostate, with half of these men experiencing symptoms. Symptoms can include frequent urination, painful urination, an urgent need to urinate, excessive nighttime urination, weak urine stream and incomplete emptying of the bladder.
How the Treatment Works
UVA is examining the safety and effectiveness of a novel procedure called prostatic artery embolization (PAE). Pioneered by Interventional Radiologists in Europe and Latin America, PAE provides a potential alternative to other available invasive surgical treatments.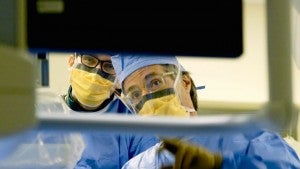 During a PAE procedure, doctors make a tiny nick in the groin and guide a small tube called a microcatheter into the small arteries that supply the prostate with blood. Small microparticles are injected into the arteries to block blood flow to the prostate, thereby shrinking the prostate and improving unpleasant urinary symptoms.
"We're excited to provide American men this option for nonsurgical treatment of their prostate symptoms, hopefully sparing them the risks of incontinence and sexual dysfunction, in the setting of a careful clinical study, under the auspices of the Food and Drug Administration." Said Dr. Ziv J Haskal MD FSIR, Principal Investigator and Professor of Radiology at the University of Virginia Medical Center.
Filed Under: Media Highlights, Research