Thomas Ball, as a third year of medical school, found himself standing in a patient's doorway, holding a ukulele. He scanned the room for IV poles and active interventions for the patient, who was blind and hard of hearing. Ball stood in the doorway and strummed a ukulele for a few minutes. Watching. Occasionally the patient would have trouble breathing. The end was near.
In this moment, he remembered the days leading up to his own father's death two years ago. His mom, sister, brothers and he sat with their dad 24 hours a day, decorating the room with flowers and pictures of their dog, Berkeley, creating an impromptu palliative hospice setting.
Ball looked around the room before him. There were no decorations. No sympathy cards or remnants of a life that would go on in others' memory. No one was here. No family. No friends.
Just us. Doctors and nurses and HUCs and therapists and food services and chaplains and facilities workers …
… and medical students.
"Standing in the doorway," says Ball, "I recognized this patient was at the end. He had no friends or family at the end of his life. All he had was the staff at the hospital. I walked in and, with his permission, sat down. Fifteen minutes turned into 30, and 30 minutes turned into more than 90." From time to time the patient would lean forward, grimacing, displaying the same restlessness Ball had seen his father exhibit right before his death. Ball interspersed ukulele strumming with moments of silence.
Over an hour and a half later, when Thomas left, the patient was peaceful and appeared to be asleep. "When I walked out of the hospital, I felt sad about the prognosis, that he was alone. I was sad he had no family or friends, but I was so grateful for the opportunity to be with him, to provide a presence similar to what my family gave dad during his last week."
During his second year someone told a group of students, "You cannot pour out your loving kindness to all your patients or your well will run dry."
Thomas Ball, now a fourth-year student, refuses to accept this.
The Quest for Meaningful Work
Thomas started his higher education career studying finance, accounting and economics at William & Mary, building his resume to become an expert in mergers and acquisitions — about as far from playing the ukulele for a dying patient as you could imagine.
In his second year at William & Mary, Ball and a pre-med friend came to a realization: They were, respectively, building a strong banking resume and medical school application, but they weren't doing anything to actually impact people's lives. They wondered what could they do to not just add another line to a resume or application, but to actually do something concrete to alleviate suffering? So they founded Optimal Healing Environments and volunteered in the men's geriatric ward of Eastern State Hospital, whose patients had few, if any, visitors. His friend would play piano and they'd sing, comforting patients who were confined by both the walls of the facility and severe mental illness. Upon their arrival at Eastern State on any given day, Ball would triage the room. "I would choose to sit with the patient who was least likely to have a student sit with them, either because of their physical appearance or emotional state. Sometimes listening, sometimes talking, sometimes sitting in shared silence, but always being present with them."
Through college Ball continued to build his business resume, which felt to him like a game, one he was very good at, but still just a game. Every week he looked forward to those 90 minutes at the hospital. "It was how I defined my college experience."
"One time we went in, and a patient actually started crying because he was so happy we were there. The patient wrote the first verse of a song, so we composed music for it together."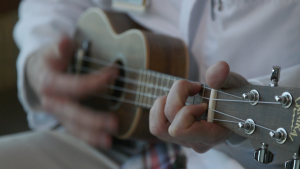 Finding a New Direction
Ball continued with work, gaining experience in investment banking and then for a large consultancy, but made time to volunteer at Miriam's Kitchen, an organization that helps the homeless in Washington, DC. "I had the opportunity to make fruit salad and serve homeless men and women. I was grateful to be there. One day, I went from Miriam's Kitchen to a client site. During that drive, I started wondering what I was going to do that day, that week, and for the rest of my life. I quickly realized I needed a new direction. So I moved back to Williamsburg, took science classes, volunteered at the fire department, and volunteered as a focus friend, which involved one-on-one interactions with patients."
"One Thanksgiving, I was with a gentleman who I had gotten to know. I brought him his favorite food, Kentucky Fried Chicken. As I was tuning my guitar, I broke one of the strings. So we played cards instead — he liked playing Poker. He ate his food and I apologized for breaking the string. He said, 'It's OK, go ahead. Play.' I played string by string, almost like a harp. This man, an orphan who never knew any of his family and was in and out of correctional and mental health facilities his entire adult life, gave me the chance to play for him. He fell asleep while I was playing. I remember walking out and, although I was only in my mid-20s, my life felt complete. I felt a great sense of joy to be able to do that for another."
Ukuleles Make the World a Happier Place
During the first two years of medical school, students learn an enormous amount of anatomy, biology, chemistry, and science. For many people who go into medicine, nursing, physical therapy, or any of the healing professions, the first two years of school can take a toll. Too often the reason for being there is absent. All science, no connection. The human element is missing. And Ball was feeling that absence. He was burning out.
Thomas' sister, who serves as a hospice chaplain in Hawaii, had introduced him to the sound of the ukulele a few years earlier. After seeing famous Hawaiian ukulele virtuoso Jake Shimabukuro play in Charlottesville, Ball had a chance to meet the performer, and that night Shimabukuro said, "If everyone played ukulele, the world would be a happier place." In thinking about the ukulele, Ball realized that its small size, light weight, and simplicity of play might be something that could benefit him and his patients.
So, at a Compassionate Care Initiative event, he brought his ukulele with him and was invited to play. He played at the closing of the event, but it was really just the beginning.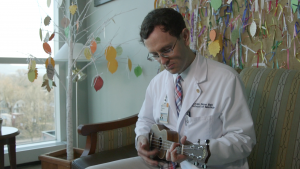 "At the start of third year, with the blessing of my attending physician, I played for patients, many of whom had terminal prognoses or were paralyzed — people for whom we could provide little medical treatment. I found that the patients, physicians and HUCs enjoyed it."
"During my last clerkship for general medicine, I was on 3 East, which has many palliative care patients. In my second week, I asked if it would be OK to bring in my ukulele. During that week, after writing notes and tucking in patients, I asked one of my patients if I could play for her. 'That'd be great,' she said. Sitting behind the computer to immerse for hours in lab values and clinic data can be draining. After playing and talking for 45 minutes, I found myself needing to thank her for letting me play. 'Thank you,' I said. 'I feel more human.' She answered by saying, "Thank you. I feel more human, too.' Walking out of the room, her roommate stopped me and said, "Please, keep playing."
Inspiration Is Always in the Last Place You Look
In his final weeks of a general medicine rotation, a patient came in for whom Ball had a chance to follow and care. "I thought she was going to be discharged the morning after I last saw her. [After rotating off-service on his own time] … I came back a few days later to play for other patients in palliative care. After playing for patients for three-and-a-half hours, I was talking to a nurse when I noticed over her shoulder a sign with my patient's name listed. I learned that, because of a deteriorating mental condition, my patient was not discharged. I was concerned and upset, so I knocked on her door and slowly walked in. I immediately saw a change in her and asked if I could sit with her. She invited me to play, during which she came in and out of conscious awareness. After our time together, I asked if it would be OK to come back to check on her. She didn't understand at first, then eventually nodded and gave a half-smile, indicating it'd be fine. Her nurse came in to give her some medication and I walked out and turned down the hallway to head home."
"I felt a surge of emotion and almost began to cry. I strummed my ukulele and immediately felt a transformation in the way I felt. I still felt just as sad for the patient who'd been by herself, who'd only had two visitors in the past five weeks. I was still concerned about her prognosis and her emotional distress. But as I played, I'd felt I'd done something for her — and that action deeply inspired me to study. I was eager to study that night and to come back to visit her again."
"That was last week."
Character Is Who You Are When No One Is Watching
Ball notes that most of the care that goes on every day at UVA goes unnoticed and unrecognized, and he is grateful to those who take care of our patients and their families, even when they're not being noticed — especially when they're not being noticed — and especially when they're not in a white coat. "The most sensitive people we met when my dad was in the hospital were the folks who brought in meals and took out the trash. You do not have to be a care provider to be compassionate. When my dad was in the hospital, I came to appreciate that we're all in this together, taking care of patients, families, and each other."
Ball's hope is that younger medical and nursing students might see someone do something that they thought contributed to the environment of healing and think, "Maybe I'll try that, too."
"We have such an abundance of musical talent," says Ball, "this may be one way that healthcare providers are able to help heal patients, but also take care of themselves, so that they are better able to care for patients. I've come to appreciate how hard everyone — docs, HUCs, therapists, facilities, food services — works. In the case of the residents, many are married and have children and find it very difficult to exercise and eat as well as they'd like to."
Proper Self-Care Means Better Patient Care
"If we're going to be able to provide our mother's care to our patients — the quality of care with technical competency and authentic kindness — we need to take care of ourselves and be kind to ourselves," says Thomas. "If we don't, we won't have anything to offer our patients. If we're kind to ourselves, we'll naturally be kind to our patients. Because residents work so many hours, we have to nourish ourselves during the workday. Music is one opportunity for members of the healthcare team to care for themselves, care for each other, and also share something with patients that extends beyond the reach of medication and surgical procedures. It doesn't serve as a substitute, but can serve as a critical complement, especially for patients who are in the hospital for days, weeks, or even months, by themselves, with few calls, and few or no visitors."
The Irony of the Story
Ball, who comes from a musically talented family (he has relatives who studied in the Philadelphia Musical Academy, are singers, guitarists and pianists), says that the "music gene" oftentimes skips a generation. The irony of his story, "I'm not a good ukulele player. I pluck. I don't play. I know four chords. I'm not special. If I can play this instrument and positively affect people, anyone in this health system can. Anyone can do this. Kindness happens here all the time."
While we agree that everyone can show kindness and follow Thomas' model for compassion and caring, we disagree with him when he says that the music gene skipped a generation. If the purpose of music is to touch the intangible — the soul, the spirit, the inner human — in such a way as to cause real emotion and feeling, be it excitement or ease, then Thomas may very well be as gifted a musician as they come.
Filed Under: Media Highlights, Student