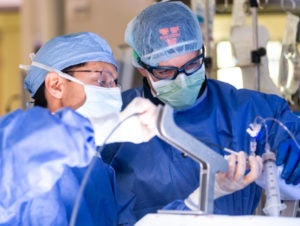 UVA cardiac valve team took time in July to celebrate a significant milestone: the team ended the fiscal year with more than 200 heart valve procedures.
This all-time high is a testament to a program that has evolved since its 2009 inception into a well-oiled machine with an international reputation for pioneering less-invasive approaches to fixing faulty heart valves.
"The two biggest reasons for our growth are #1. Expanding to a larger patient population and #2. At UVA, we have a lot of really cutting-edge clinical trials so we offer procedures available at only a handful of centers," says Gorav Ailawadi, MD, Chief of Cardiac Surgery, who serves as Surgical Director of the UVA Advanced Cardiac Valve Center, part of the Heart and Vascular Center.
The valve center's Medical Director, interventional cardiologist Scott Lim, MD, adds, "We are doing the absolute newest stuff for less-invasive transcatheter heart valve repair and replacement … We have a deep skill set in terms of our team of physicians, mid-level providers and staff so from a patient standpoint, we offer a seamless journey for personalized care."
Running a valve program requires extensive support, notes Dr. Ailawadi. "Many of our patients are older and typically have other health issues so we've developed strong ties with other types of physicians at UVA. We often find new masses when we do CAT scans to see if a patient is eligible for a procedure and so we'll need to bring in oncologists and other cancer experts. We also work closely with liver and kidney disease specialists as these organs can be damaged by heart disease. It really takes a whole group of specialists beyond those who just deal with valves and the heart. And Marissa Donatelle, as our valve center coordinator, does a lot to make sure our patients get specialized care and any tests needed as efficiently as possible."




The heart valve team celebrated their success with an ice cream social so we invite you to enjoy 11 Fun Facts about Heart Valve Disease:
The heart has four valves — mitral, aortic, tricuspid, and pulmonary.
The most common valves to wear out are aortic and mitral valves, which are subject to higher pressure.
UVA pioneered a less invasive (transcatheter) approach for aortic and mitral valve repair as well as replacement. Once reserved for patients considered too high risk for open-heart surgery, the transcatheter approach is now available to lower-risk patients.
In fiscal year 2019, UVA performed a record number 125 TAVRs (transcatheter aortic valve replacements). With this procedure, physicians replace a narrowed aortic valve that fails to open properly by inserting a catheter in a blood vessel and guiding a device to the heart without opening the chest.
UVA was the first in the United States to do a new procedure for a faulty tricuspid valve (the opening between the heart's two right side chambers).
UVA is now leading the way in bringing less-invasive treatments for the tricuspid valve and bicuspid aortic valve disease (for people born with 2 instead of 3 flaps in the aortic valve.)
UVA has 3 clinical trials for tricuspid valve disease.
UVA has 3 clinical trials for mitral valve disease.
Lim is the national principal investigator for a study testing a new mitral valve clipping device.
Ailawadi is the national principal investigator for an investigational mitral valve replacement. Experts have perfected fixing a faulty aortic valve, but fixing the larger and more complex mitral valve is still being perfected so clinical trials are key, Dr. Ailawadi explains.
Within days of a heart valve transcatheter procedure, most patients are free from shortness of breath, fatigue, or chest pain and can enjoy higher-intensity daily activity without those symptoms, Dr. Lim notes.
Filed Under: Clinical, Media Highlights