Reprinted from Web MD 6 Immune System Busters and Boosters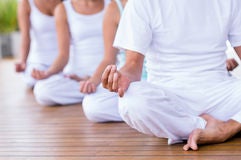 Everyone has some stress; it's part of life. If stress drags on for a long time, it makes you more vulnerable to illness, from colds to serious diseases.
Chronic stress exposes your body to a steady stream of stress hormones that suppress the immune system.
You may not be able to get rid of your stress, but you can get better at managing it.
Learn to meditate.
Slow down.
Connect with other people.
Work out to blow off steam.
Counseling is a big help, too.
Easing stress lowers levels of a stress hormone. It also helps you sleep better, which improves immune function.
People who meditate regularly may have healthier immune system responses, some studies show. In one experiment*, people who meditated over an 8-week period made more antibodies to a flu vaccine than people who didn't meditate. And they still showed an increased immune system response 4 months later.
*Psychosom Med. 2003 Jul-Aug;65(4):564-70
Filed Under: Monthly Musings