Message from the Division Leadership, Gastroenterology & Hepatology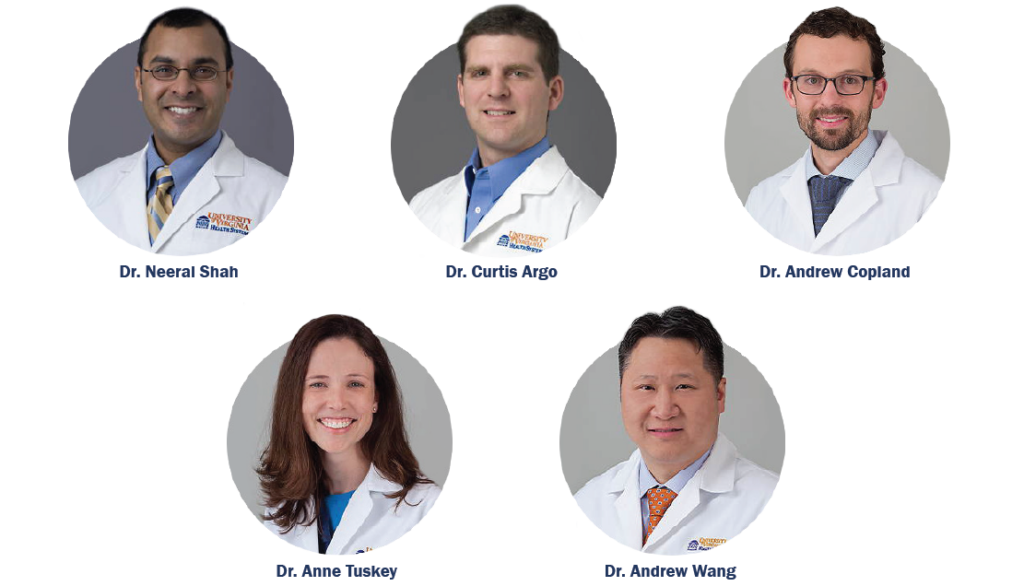 As we continue to learn to live through this pandemic, 2021 has been a year of changes in the GI Division. The division is currently in the midst of a nationwide chief search and transition to an interim leadership model through section and mission leads. The faculty leading these efforts are Curtis Argo, Andrew Copland, Neeral Shah, Anne Tuskey, and Andrew Wang. Even though we have changed our clinical practice, we have adapted to continue the high level of clinical care that the Department of Medicine provides.
Every team member has faced extraordinary challenges, and each of us has risen to the occasion to ensure patient care has not been affected. We have learned to utilize telehealth strategies to protect our patients and avoid unnecessary travel. Endoscopy protocols have been changed to ensure the safety of our patients, providers, and all team members. Finally, we continue to explore strategies to respond to the increasing demands of our services.
In our core mission of education, we welcomed a new class of trainees that have joined our exceptional group of clinical fellows. On our inpatient and outpatient rotations, medical students and medical residents are able to have exceptional learning opportunities alongside faculty and fellows. Through an ever-growing set of clinical studies, we offer our patients novel options while advancing the field of gastroenterology and hepatology in our research mission. Finally, patient care has remained at the forefront of our division. Every member of our digestive health team helps to ensure that our patients receive the optimal care they deserve during their visit to UVA. The selfless devotion of our team members is evident each and every day.
As we look ahead to 2022, we hope to return to in-person conferences and departmental activities. Our faculty will continue to present at the national and international level in all aspects of GI and Hepatology. The following pages detail a sample of our research, education, and clinical care accomplishments. We are confident that the future will bring even more opportunities and success through the help and support of all our colleagues within our division and the department.
~Drs. Neeral Shah, Curtis Argo, Andrew Copland, Anne Tuskey, Andrew Wang
---
Hepatology Research
The UVA Hepatology group has grown over the past 30 years to ten clinicians associated with a group of Clinical and Research Coordinators. The group has and continues to make important scientific contributions in a wide variety of liver-related fields such as viral hepatitis, portal hypertension complications such as gastric variceal bleeding, Fatty Liver Diseases including both metabolic and weight-related NASH and alcohol-induced fatty liver disease, Hemostatic mechanisms in liver disease patients, Liver Transplantation application and outcomes, Hepatocellular Cancer detection and treatment, pruritus in cholestatic liver disease, hepatic encephalopathy, anti-fibrotic agents in cirrhosis aimed at stopping and possibly reversing liver fibrosis and disorders of cholesterol metabolism in liver disease patients. We are very active in multiple cutting-edge trials in NASH and autoimmune liver diseases such as PBC and PSC and investigator-initiated multi-center national and international collaborations which have originated at UVA as well as inter-disciplinary collaborations in fatty liver and liver cancer. Our group constitutes an important component of both externally and internally funded studies investigating complications related to portal hypertension and decompensated liver disease including trials of the BioArtificial Liver Support device called ELAD as well as terlipressin for hepatorenal syndrome and Outcomes research in Liver Transplantation with several important studies emerging from the group to date. Coagulation in Liver Disease remains a special area of interest for the group. Charlottesville was host to the first International Coagulation in Liver Disease conference started in 2005 and this conference grew over the years to serve as one of the most important global meeting places for investigators in the field resulting in members of our Faculty making significant contributions to widely recognized Societal Guidelines.
Dr. Henry has opened two industry-sponsored clinic trials for Non-alcoholic Steatohepatitis (NASH) this year. The first is a multi-center study of a new diagnostic modality for NASH using the MRI Liver MultiScan. This is an exciting MRI-based technology that has the potential to replace liver biopsy if the results of our clinical trial are promising. Currently, we are leading enrollment of all the centers in the trial. The second trial is a phase 3 trial of Semaglutide, a GLP-1 agonist typically used in the management of type 2 diabetes, as a therapy for NASH.
---
IBD Research
This past year, the UVA Inflammatory Bowel Disease group added Dr. Esteban Figueroa to its ranks, further growing its strong core of IBD providers and clinical nurses. Additional growth has occurred in the realm of clinical trials, the UVA IBD team has been studying stem cell therapy for the treatment of complex perianal Crohn's disease, a first of its kind in North America. This past year, our group was invited to become a member of IBD Qorus, a collaborative chronic care network composed of the nation's top IBD programs where patient-centric care and sharing of best practices are emphasized. Our members are well respected in the field of IBD and gastroenterology, Dr. Anne Tuskey recently was re-elected to serve a second term as ACG Governor for the state of Virginia. Dr. Brian Behm has been recognized for his excellence in patient care, receiving an award for excellent bedside manner by OurHealth Charlottesville and Shenandoah Valley Magazine in 2019. Dr. Behm has also contributed to the field with insight into medication non-adherence, polypharmacy, and opioid misuse in IBD. Future goals for our team include expanding our clinical trials to offer cutting-edge therapies to our patients and solidifying our status as the region's top program for complex, multidisciplinary care.
---
IBD Research
UVA motility has seen many exciting changes over the past 10 years. In 2010, Dr. James Mann joined the GI faculty and brought high-resolution esophageal and anorectal manometry to the division. In 2017, Dr. Jeanetta Frye became the director of GI motility and, after training in advanced motility centers, instituted additional updates in technique and interpretation of high-resolution manometry, reflux testing, breath testing, and wireless motility capsule. We have also partnered with other motility centers in patient care and training conferences. 2019 brought the addition of Lauren Silvey, PT to the motility center. Lauren incorporates pelvic floor therapy for the treatment of a patient with pelvic floor disorders. In 2020, our beloved nurse, Deborah McDaniel RN, retired after 30 years of service to the GI motility lab. Ms. McDaniel continues some part-time work in the center, training our two new, excellent nurses – Jeanine Nock RN, Melanie Demers RN, and our technician Maricar Baligatas. Most recently, the GI motility center has been fortunate to be a recipient of a VA Catalyst Grant, partnering with Eastern Virginia Medical School, George Mason University, several other universities, and ISOThrive, INC, studying the effects of a pre-biotic in the management of GERD.
---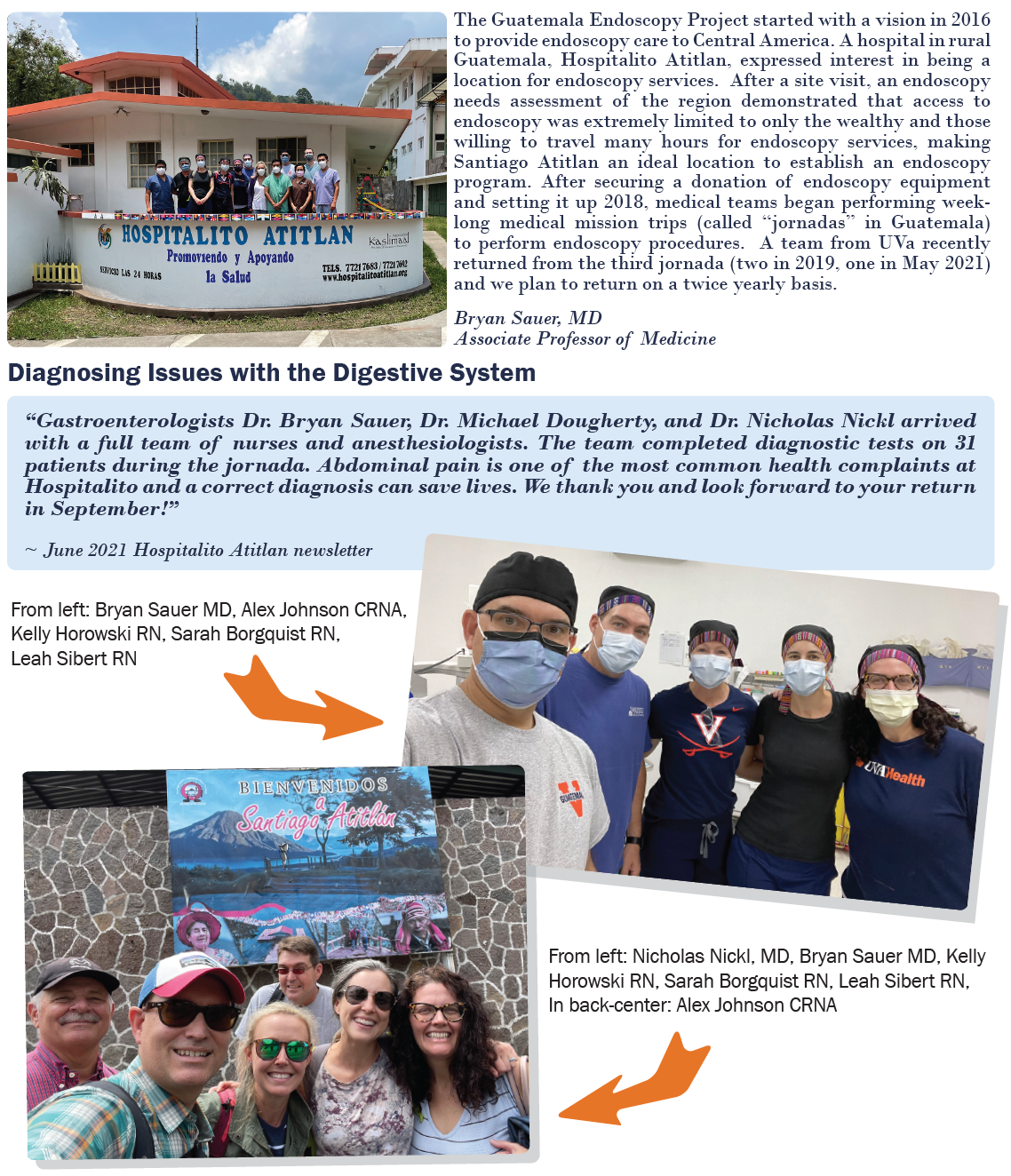 ---
Interventional Endoscopy
Welcoming Dr. Ross Buerlein (July 2021) and Dr. Alexander Podboy (August 2021) as new faculty members this Summer.
Dr. Buerlein continues leading the UVA Community Outreach Clinic, offering free health care to those experiencing homelessness in the city of Charlottesville.
Dr. Andrew Wang is completing his term as President of the Virginia Gastroenterology Society this year.
Dr. Wang assumed the role of Chair of the American Gastroenterological Association's Clinical Practice Updates Committee (5/2021)
---
Selected Interventional Endoscopy Research Grants
2020 – Sauer BG (PI). ACG Clinical Research Award. Identifying Food Triggers in Eosinophilic Esophagitis (EoE) through Serum and Tissue IgG4 Levels
Ongoing – Wang AY, study outcomes adjudicator, NIH U01DK104833-01: Stent vs. Indomethacin for Preventing Post-ERCP Pancreatitis: The SVI Trial
Ongoing – Wang AY (Site PI), Strand DS (Co-Investigator). NIH U01 PAR-15-067: SpHincterotomy for Acute Recurrent Pancreatitis (SHARP) Trial
---
Medical Education Update
Drs. Neeral Shah and Anne Tuskey continue to lead efforts in the pre-clerkship curriculum. They were both chosen as recipients of the Mullholland Teaching Excellence Award by the medical students for their work in the GI system for first-year medical students. Jeanetta Frye continues to serve as a Foundations of Clinical Medicine Coach for medical students during all 4 years of their medical school training. Steven Powell has completed his term on the Curriculum Committee at the School of Medicine. Dennis Kumral and Andrew Copland have assumed the role of directors for the fourth-year GI elective. Finally, Neeral Shah was named the inaugural director of the newly formed Academy for Excellence in Education at the School of Medicine.
Dr. Henry took over the 4th year health policy elective in this academic year and was able to update the curriculum to focus on the practical application of health policy for physicians. In addition, I was accepted into the academy of excellence in education this year.
---
Clinical Updates
In conjunction with Vanessa Shami, we were able to bring new endoscopic technology, EUS-guided portal pressure measurements, to UVA that will benefit our patients with portal hypertension. We have already begun using the technique and have combined this with EUS guided liver biopsies.
In the last year, changes occurred to the liver transplant donor allocation system that negatively affected our access to organs for our patients; however, we have been growing our living donor liver transplant program during this time. Given that we require more suitable donors for living donor liver transplants I have moved my NASH/weight management clinic from cardiology to the liver transplant clinic. In doing so we were able to create a weight management clinic for patients with NASH, patients who wish to be living liver donors but need to lose weight to do so safely, and pre-transplant patients in need of a healthy weight loss plan. By combining our efforts we hope to serve a larger population of patients with NASH and increase our liver transplants by improving the health of both donors and recipients.
---
GI Fellowship Update
The fellowship program has continued to be a strong pillar in the GI division. We have added many extra members to our family and wish our congratulations to those with new babies during this past year – Rob Schenck, Chris Young, Ben Robey, Eddie Oldfield, Jen Miller, and Rohan Modi, and the recent marriage of Zachary Dickson. We are also excited for a couple of babies due this upcoming year that we will announce in the future.
Our fellows have also excelled in the clinical and academic realms of the fellowship. It has been a unique year and our fellows have been flexible and adapted to many of the hurdles presented by the covid pandemic. We have had required pauses in our endoscopic practice a little more than a year ago, but have returned to high volumes and adapted our practice. We converted to a virtual interview program for our fellowship recruitment and our chief fellow, Jennifer Miller, helped publish an article for other programs to benefit from our experience. We have also welcomed record numbers of students and residents as learners on our consultancy services.
Every fellow participated in quality improvement projects over the past year. A second-year fellow, Ben Robey, led one of these projects and was able to share our experiences with an international audience. Ben presented his work at the annual GI conference (Digestive Disease Week) detailing improvements to our process for a post-procedural anti-coagulation reporting algorithm.
One of our third-year fellows, Brian Wentworth, completed a fast-track program that will allow him to be board eligible in Gastroenterology and Transplant Hepatology after only three years of training. Brian was also awarded a 2021 Clinical, Translational, and Outcomes Research Award in Liver Diseases from the AASLD Foundation (American Association for the Study of Liver Diseases – the major liver society in the US). A true testament to his hard work and career path in translational liver disease research.
As we close on another year of fellowship, we are excited for our graduating fellows who will pursue practice, an academic faculty position, and a transplant hepatology fellowship year. Jennifer Miller – Transplant Hepatology Fellowship at UVA; Rohan Modi – practice in Columbus; Ohio, Eric Sellers – practice in Denver, Colorado; and Brian Wentworth – GI divisional faculty at UVA.
---
2021 Divisional Awards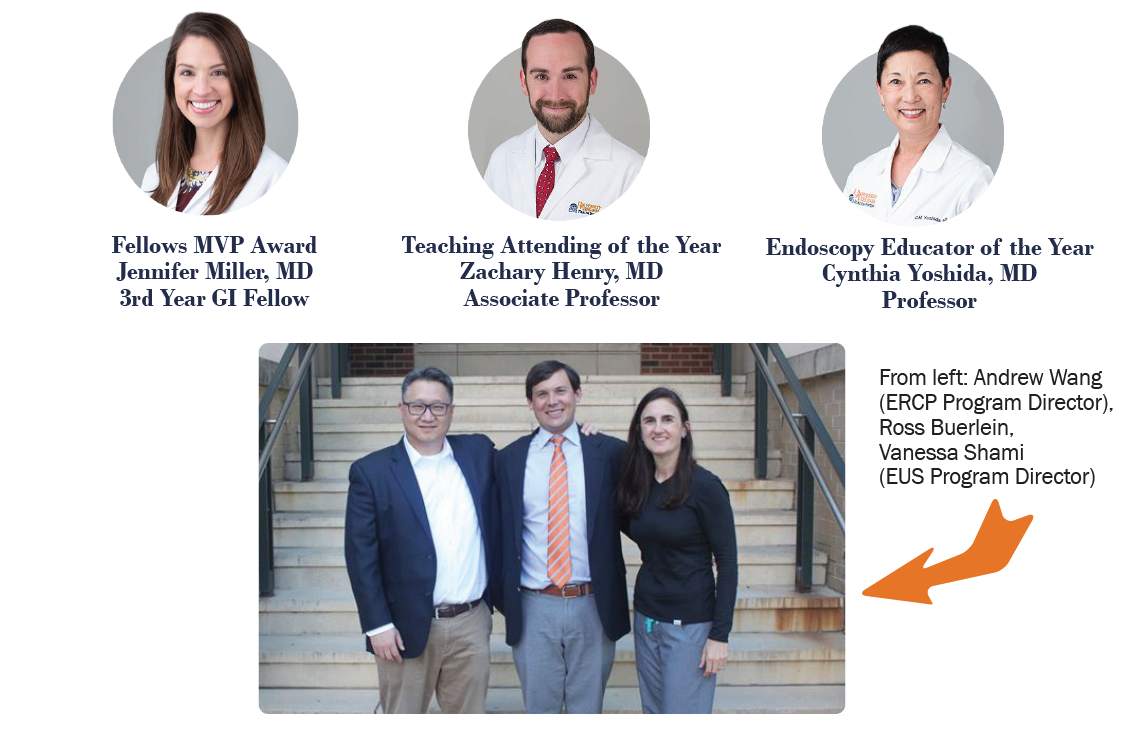 Filed Under: Basic Research, Clinical Research, DOM in the News, Education, Faculty News, News and Notes, Notable Achievements
Tags: Awards, December 2021, december medicine matters, December medicine matters newsletter, DOM, Education, GI, medicine matters, newsletter, Research