Tell us a little bit about yourself.
I am the youngest of six children. I was born in our family physician's office in Ripley, West Virginia. There wasn't a hospital in the area, so our community doctor had a makeshift delivery room in his office. I grew up on a farm in a small community where everyone knew your name and would lend a hand at the drop of a hat. My mom was an excellent cook, and most of what we ate we had raised.
I completed my undergraduate degrees at Marshall University while working at Thomas Hospital in Charleston. I met my wonderful husband Walt at Marshall on the court during a pickup game of basketball. After we married, we settled in Miami, Florida, where I worked at Baptist Hospital for a year before returning to the mountains and closer to home. We pursued our graduate degrees at the University of Virginia, and I transitioned from my nursing to nurse practitioner role in 2013.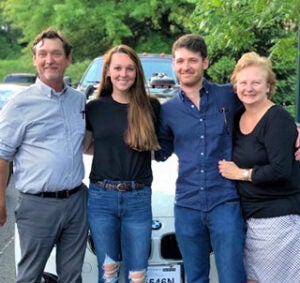 Why Endocrinology?
It seems I've always had an interest in the link between heart disease and diabetes, in part because of my genetics as both my grandmother and my father had diabetes. While working on my graduate degree, I did a research project with some of my colleagues on diabetes and heart disease. This project helped inform the need for a collaborative outpatient specialty practice where both Endocrinologists and Cardiologists provided care during the patient's encounter. I became a part of this clinical enterprise, and from this experience, my love for Endocrinology continued to grow.
What brought you to Charlottesville?
An opportunity to work at UVA and for my husband and I to further our education. Living in Miami in the late '80s was a lot of fun, but I missed the mountains, and we wanted to be closer to our family.
What excites you about work?
The opportunity to collaborate with a diverse group of innovative and accomplished colleagues. It is also gratifying to care for patients and to hope that in some way, I've made a difference in their care and improved their outcomes.
Proudest/greatest achievement outside of the professional realm?
I would have to say it has been a blessing to be a mother. I was told I would never have children, and with the help of some great doctors at UVA and a whole lot of praying, I have a son and a daughter. Lindsey is 24 years old, lives in Virginia Beach, and is working full time while advancing her education. She hopes to enter a PA program in the fall. Joshua is a Naval Aviator who was just selected to go to the Top Gun Academy.
Next life?
Honestly a grandmother with at least four grandchildren, but I would also love to be able to sing and play a musical instrument.
What are you usually doing in your spare time?
Gardening, cooking, traveling and spending time with my family and our two Labrador retrievers Regs and Lucy.
Favorite vacation/activity spot?
Although the mountains feel like home, I do love spending time at the beach. Some of my favorite spots have been in Pensacola and Marco Island, Florida, and along the coast of California.
Most admired person and why?
My mom. She was unwavering in her faith and her love, even in the midst of a very challenging life.
Best advice anyone ever gave you?
Keep striving for more and do the right thing.
What about you would surprise us?
I sat in the pilot's seat of a Black Hawk Helicopter in Germany.
Filed Under: Profiles, Staff Profiles
Tags: DOM, Endocrinology, February 2021, February Medicine Matters, newsletter, profile, profiles, staff