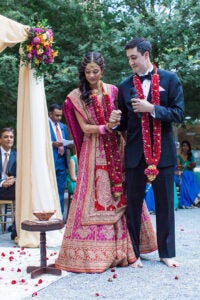 I was born and raised in Dallas, TX (I'm a Cowboys fan). I went to Vanderbilt for college and Georgetown for medical school and Med/Peds residency. I decided I wanted a bit of a scenery change and loved UVA when I interviewed for ID fellowship, though I do miss peds! I live in Crozet with my husband of 3 years and our covid puppy, Luna.
What brought you to Charlottesville?
UVA ID!
What excites you about your work?
I love puzzles, and I think that in the field of infectious diseases, figuring out what organism is causing a patient's symptoms is a bit like solving a mystery. It's also a field where most of the conditions are treatable, and we can make a difference in a patient's recovery.
Next life?
National Geographic photographer. Or maybe even in this life! What are you usually doing on the weekends? Taking advantage of the outdoors! My goal is to hike all (most) of the Shenandoah trails before the end of the fellowship. Working on long exposure waterfall photos is my current favorite activity.
How did you meet your partner?
We were in the same service learning group in our first year of medical school.
What's on thing you always have in your fridge?
Cheese.
Favorite vacation/activity spot?
I love to travel. But if I had to pick, we most recently went to Iceland, and it was spectacular; we were fortunate and got multiple Northern Lights shows!
Most admired person, and why?
My mom. She cares fiercely about education and making a difference. In the last ten years, she's started an international nonprofit aimed at giving teachers the tools they need to be successful. She's also currently back in school, working on her PhD! She's my motivation and inspiration.
What about you would surprise us?
My family and I were part of a local DFW news segment on tornado safety when I was in elementary school.
What is a talent or skill that you don't have that you wish you did?
Singing, for sure.
Favorite fictional characters?
I'm secretly, not so secretly, Harry Potter obsessed.
What is the last book you read for pleasure?
A Song of Achilles by Madeline Miller.
What is the most unusual thing you have ever eaten?
Cuy (guinea pig) in Peru. I remember it tasted a little like chicken.
Filed Under: Fellow Profiles, Profiles
Tags: DOM, ID, Infectious Diseases & International Health, January 2021, January Medicine Matters, medicine matters, profile, profiles