I have been at UVA since July 2015, after graduating with my PhD in epidemiology from UNC-Chapel Hill. I started as a post-doctoral fellow in the Center for Global Health. I transitioned to Assistant Professor in the Department of Public Health Sciences and Division of Infectious Diseases and International Health in 2016. I currently teach the advanced epidemiology methods course in the MPH program and conduct a wide range of infectious disease research projects with a primary focus on enteric disease among young children in low-resource settings.
Why Research?
As an undergraduate, I struggled with where to take my interests in the biological and medical sciences. Early on, I knew that I didn't want to be a doctor, but I also didn't love bench science. Epidemiology turned out to be a perfect fit in that it combined my interests in science and math, intending to improve public health. I am fulfilled by the opportunity to generate knowledge that ultimately we hope can improve health at the population level, focusing on prevention and the underserved.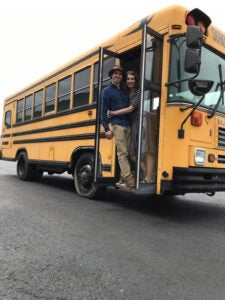 What brought you to Charlottesville?
UVA happens to be the home of many of the top diarrhea researchers globally, so it was an ideal place for me to pursue a post-doc after being in a PhD program where I didn't have diarrhea-focused mentors. I was particularly excited to work with Dr. Guerrant and Dr. Dillingham in the Center for Global Health.
What excites you about your work?
Sometimes I have existential crises about my work's relevance, particularly when my husband reminds me that we already know how to prevent diarrhea with large scale water/sanitation infrastructure, so what else is there to know? But, these moments are fleeting. I am excited by how the seemingly incremental knowledge we generate builds into important contributions to our field. I have been lucky to be part of efforts to redefine the global burden of specific causes of diarrhea, quantify their long-term impact in kids, understand why currently available interventions have been unsuccessful, characterize the relationship with antibiotic use and AMR, and prepare for future enteric vaccines. I also get very excited about solving nerdy epidemiologic methods problems, which seem to keep popping up in our work.
Proudest/greatest achievement outside the professional realm?
Surviving unmedicated childbirth and many a sleepless night with a newborn – I have so much newfound respect for all mamas!
Next life?
Prima ballerina.
What are you usually doing on the weekend?
Spending time with my 4-month old son, Simon, and trying to do a COVID-safe activity outside the house, which usually involves a hike or picnic.
How did you meet your partner?
Elias and I connected in Charlottesville over our interest in Zen Buddhism and through sitting meditation with the Blue Ridge Zen Group.
What's one thing you always have in your fridge?
Hummus. I am getting tired of hummus, but it's our go-to snack and I'm not creative enough to think of an alternative!
What about you would surprise us?
My husband and I bought a school bus from the school district in Coffee County, Tennessee to build a mobile tea house. It's still a work in progress but we can't wait to share it with you!
What is a talent or skill that you don't have that you wish you did?
I really would love to be a good tennis player.
What is the last book you read for pleasure?
A Gentleman in Moscow by Amor Towles
What was your first job, how old were you?
When I was 17, I worked as a To-go person at Famous Dave's barbeque restaurant. I got the job in the To-go area because I was deemed smart enough to operate a cash register and was too young to be a server. I had to answer the phone and say, "Welcome to Famous Dave's, this is Famous Liz, how can I help you?"
Filed Under: Faculty Profiles, Profiles
Tags: ID, Infectious Diseases & International Health, January 2021, January Medicine Matters, newsletter, profile, profiles