After almost a year of grief, loss, fear, and uncertainty, we feel a new sense of hope and change, a time of "possibilities". We look forward to the continued growth and success of our division, in spite of all the challenges we faced, we had an excellent year and continue to thrive. We know that we still have a way to go before we can claim COVID-19 victory but already the tireless, undaunted actions of this institution and all the individuals within have been instrumental in maintaining a heroic standstill. We are grateful to our nurses who cannot work remotely but are on the front lines, in harm's way, working every day. While we grow closer to a vaccine, we will remain vigilant and committed to the safety and best interests of our patients and staff alike and continue to make decisions comprised of compassion, empathy, and concern.
With our research teams return to Pinn Hall, we look forward to furthering collaboration, not just within our division but across all the corridors of science, medicine, and beyond.
New faculty member Dr. Daphne Knicely will join us from Johns Hopkins in December. She completed her fellowship at UVA, and her return as Associate Professor is enthusiastically welcomed.
Mark D. Okusa, MD
---
UVA Kidney Food Pharmacy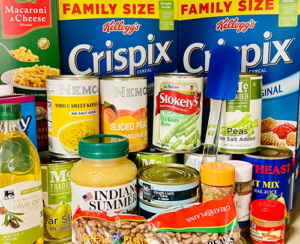 Thanks to an innovative collaboration between the Blue Ridge Area Foodbank (BRAFB) and the UVA Dialysis Program, patients at the UVA Kidney Center Dialysis Unit have improved access to healthy food options, through the charitable food system. This initiative is part of a multi-year, statewide partnership with Sentara Healthcare, the pilot program was launched in March 2020. The majority of UVA's 900 plus dialysis patients spend about 12 hours/week in the dialysis unit allowing time for interaction and education with our registered dietitians. Many of our patients have food insecurity and lack access to nutritious options, in many cases, they must choose between eating healthy, buying medication, or paying the bills. After evaluating food preferences and allergies, patients receive a bag of wholesome, medically-tailored groceries as often as they need it.
With the onset of COVID-19, we saw an even greater need, and quickly expanded the program, currently, we are serving approximately 40 patients/month and have distributed over 500 bags. Our amazing dieticians, Elaine McCall, MS, RDN, CSR, and Thessa Churillo, RDN, CSR, are coordinating all aspects of the ordering, storing, and distribution for weekly food bags, largely shelf-stable food due to space limitations and lack of refrigeration. More expansion plans are in the works, and in other healthcare settings, Orange and Augusta will benefit from this outstanding initiative.
Lesley McPhatter, MS, RDN, CSR
---
Division of Nephrology Faculty Spotlight
Let's shine a light on one of our faculty members, Dr. Angie Nishio-Lucar. Most days you will find her in the transplant clinic, her energy easily matches the fast-paced environment she works in. Her home life is equally busy, her ability to multi-task during zoom meetings is the stuff of legend. If that isn't enough, she still finds time to participate in the Latino Health Initiative, an organization of the University of Virginia and directed by Max Luna, MD, Associate Professor of Medicine, that aims to improve the health and wellbeing of the large Latino community in the Charlottesville area. The turnout at their mobile health clinics Pre COVID-19 was impressive, considering that these are people less likely to seek timely medical attention for a variety of reasons. During the pandemic, they have provided targeted COVID-19 testing in the Southwood Community in Charlottesville and the Thomas Jefferson Health District. Her work with this particularly vulnerable population goes beyond the norms of clinical expertise and compassionate care, it is an architectural endeavor that requires building bridges.
Division of Nephrology Subspecialties Spotlight
The UVA Glomerular Disease Clinic was founded by Dr. Corey Cavanaugh in the spring of 2020 with the focus of providing sub-specialized care to patients that carry a diagnosis of glomerular disease, such as membranous nephropathy, minimal change disease, FSGS, and vasculitis. With Sue Ellen Bailey RN as care coordinator, they deliver comprehensive care for these rare and complex diseases. Their ability to offer patients the most up-to-date and evidence-based care in a rapidly changing field, while also providing access to novel drug trials sets them apart. Importantly they also offer prolonged visit times, to allow for patient education. Currently, they see patients on Wednesday mornings once per month at the kidney center in the west complex building.
The UVA Onco-Nephrology Clinic at the Emily Couric Clinical Cancer Center was founded in December 2017 by Dr. Amanda DeMauro Renaghan. Together with her care coordinator Kelly Phillips, RN, Dr. Renaghan cares for patients living with cancer and kidney, electrolyte, and blood pressure disorders. This population includes patients with hematologic and solid malignancies, those who have undergone stem cell transplantation, and those with nonmalignant hematologic conditions like sickle cell anemia. Over the past year, the providers at the Onco-Nephrology Clinic completed nearly 80 initial visits and over 200 follow-up visits, working to deliver the best possible care in coordination with their Oncology colleagues in a familiar environment. Dr. Renaghan currently sees patients on Friday afternoons at the ECCC and throughout the week as needed to accommodate patient schedules and urgent referrals.
---
Awards and Achievements
Dr. Brendan Bowman represents a paragon of clinical excellence and most deserving of the Dean's Award for Clinical Excellence 2020. Dr. Bowman has been recognized frequently for the quality of his patient communication skills with OurHealth magazine Bedside Manner Awards in 2015, 2016, and 2018 as well as a Virginia "Top Doc" award in 2019. Brendan is the medical director of the UVA Orange Dialysis unit and since 2013 the dialysis unit has achieved the highest quality rankings in the UVA dialysis system, including a five-star ranking in 2016-2020, signifying a unit performing in the 90th percentile nationally. His most recent ICH-CAHPS scores placed him in the 99th percentile in physician ratings at his dialysis unit and he also won the UVA Patient Experience Award for a 99th percentile rating for care in his outpatient clinic. Dr. Bowman was appointed Medical Director of the UVA Outpatient Dialysis program, a program that consists of 11 satellite UVA Health System facilities that is among the largest academic hospital owned dialysis programs in the country caring for over 900 dialysis patients. Despite this significant administrative role, Dr. Bowman also has extensive inpatient responsibilities and is co-director of the ICU consultation service performing 12-20 weeks of inpatient consultation each year at UVA. Dr. Bowman has established innovative clinical and research programs at UVA. He was instrumental in establishing one of the earliest Transition Start Units. This dialysis programs traditionally refers to an area in an in-center hemodialysis unit that focuses on self-management, providing the necessary education and support that enables all patients to achieve their maximum level of independence. The ultimate goal is to transition all patients over time to a home modality, an effort that addresses the mandate from the White House Executive Order on Advancing American Kidney Health (July 10, 2019). Thus far his results have been outstanding you can read about it here. Brendan has emerged as a national leader in regulatory aspects in the care of kidney patients. He Chairs the RPA Government Affairs Committee and was recently named RPA representative to Kidney Care Partners and Vice-Chair of the RPA's Education and Annual Meeting Planning Committee.
---
Welcome New Faculty!
---
President Ryan and Provost Magill Tour COVID-19 Saliva Testing Lab
Filed Under: DOM in the News, News and Notes, Notable Achievements, Top News
Tags: December 2020, december medicine matters, December medicine matters newsletter, DOM, medicine matters, Nephrology