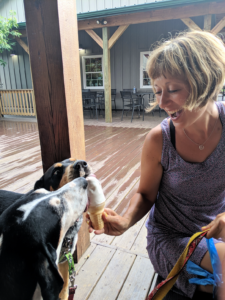 Tell us a little bit about yourself.
I first came to UVA for graduate studies in Biochemistry. On my very first day in Cville, one of the first people I met (a dear friend now) told me "Cville is like a black hole – once you come here, you'll never leave", meaning this town draws you in with its charms! At the time, I saw this as a joke, but after leaving for postdoctoral training, both my husband and I jumped at the opportunity to come back to Charlottesville and UVA – the quality of life here is hard to beat!!! So, we live in town with our dog co-pilots in a black hole space ship!
Why Research?
The curiosity – I get to feel like a child making new discoveries every day! Also, to find a cure for autoimmune diseases!
What brought you to Charlottesville?
Science and Charlottesville itself – this little town offers what some big cities can only dream about – awesome people and great (and diverse) food and music!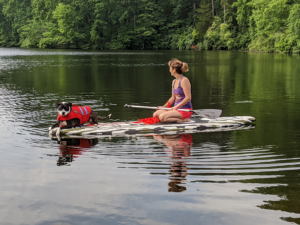 What excites you about your work?
The discovery – I love the unknown!
Proudest/greatest achievement outside the professional realm?
Growing my own veggies!
Next life?
Pro surfer!
What are you usually doing on the weekend?
Camping in one of the nearby Virginia State Parks or the Shenandoah National Park!
How did you meet your partner?
At UVA in grad school – the labs we studied in were across the hall from one another!
What's one thing you always have in your fridge?
Sour cherries! A little taste of my first home (Serbia)! And local beers (Champion Brewery is a favorite)!
Favorite vacation/activity spot?
East Coast – First Landing State Park in Virginia Beach; West Coast – Joshua Tree National Park; Europe – anywhere off the beaten path (French cheese, Scottish Highlands, Tara Mountain National Park in Serbia!)!
Most admired person, and why?
My husband, for putting up with me!
Best advice anyone ever gave you?
Never give up!
What is it about you that would surprise us?
I used to DJ and host a radio show at WNRN (local radio station).
What is a talent or skill that you don't have that you wish you did?
Playing a musical instrument (well).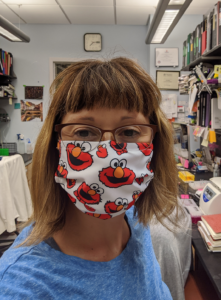 Favorite fictional characters?
Jack Skellington from The Nightmare Before Christmas!
If you could go back in time, what year would you travel to?
Any year in the 80s!
What is the last book you read for pleasure?
The Fifth Season by N.K. Jemisin. In general, I love science fiction!
What's the most unusual thing you have ever eaten?
Snails…it's a French thing.
Do you collect anything?
Memories of fun places I've been to and pins from U.S. National/State Parks!
What was your first job, how old were you?
Selling CDs (anyone remember those?) in an outdoor market stand in Belgrade, Serbia.
Filed Under: News and Notes
Tags: faculty, fellows, fellowships, Nephrology, profile, profiles, Residents, September 2020, september medicine matters, staff