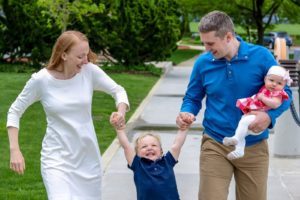 Tell us a little bit about yourself.
I have been at UVA for 9 months now after completing my Internal Medicine Residency at Georgetown University. I am originally from Minnesota. I moved to Charlottesville with my two kids (7 months and 2 years old at the time) in June 2019. My husband left for a 9-month deployment in Afghanistan just one month before fellowship started. He just returned home this month and we are thrilled!
Why Medicine?
I have wanted to be a doctor since I was a little kid. One of my initial interests was in public health. I started off working at a methadone clinic in Baltimore, Maryland during college. This led to a later position working at a crisis center for homeless youth in Newark, NJ after graduation. I loved the one-on-one interactions so much with the patients that I decided to apply to medical school after I completed my work. During my residency, I thought about several specialty options for the continuation of my medical education. I ultimately decided on Allergy and Immunology.
What brought you to Charlottesville?
Allergy and Immunology Fellowship. My love for UVA actually started in medical school when I did an away rotation in the Allergy and Immunology department for a month! My husband is a Navy physician and is stationed in Virginia. Charlottesville is a nice midway point for us. Also, the quality of life, not to mention the traffic, is much better than D.C.!
What excites you about your work?
I love seeing both kids and adults. It is especially exciting to see pediatric patients after a residency in adult medicine. Allergy and Immunology are both fascinating fields with innovative and promising new therapies.
Proudest/greatest achievement outside the professional realm?
Having two kids during a three-year residency with a deployed spouse. Let's not do that again!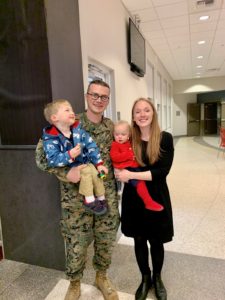 Next life?
In another life, I'd be a YouTube mom star doing organization videos. I love to organize! I am not above telling others how they could be better organized.
What are you usually doing on the weekend?
Weekends are spent hanging out with my co-fellows and our many children. Weekends are also spent buying things at Costco I "need" for the house. Costco is where I go to relax.
How did you meet your partner?
We met on the alpine ski racing team in middle school. We actually went to prom together but did not start dating until just before we went to medical school.
What's one thing you always have in your fridge?
Half and half. I drink a lot of coffee.
Favorite vacation/activity spot?
Big Sky, MT. My husband and I love to downhill ski.
Best advice anyone ever gave you?
"Be who you are and be that well." St. Francis de Sales
I went to an all-girls Catholic school for many years in Minnesota, and this was a favorite quote among the girls and the nuns.
What about you would surprise us?
I am terrified of blood. Residency was tough.
What is a talent or skill that you don't have that you wish you did?
I always wanted to be an Olympic gymnast. It is too late.
Favorite fictional characters?//If you could go back in time, what year would you travel to?
The 1920s. I would love to live a day in the life of Lady Mary Crawley from Downton Abbey.
What is the last book you read for pleasure?
Becoming, by Michelle Obama. It was the Audible version. I have not physically read a non-medical book in years.
What's the most unusual thing you have ever eaten?
I do not eat unusual things.
Do you collect anything?
Yes, lots of supplies and snacks from Costco.
What was your first job, how old were you?
A very engaged babysitter at age 11.
Most admired person, and why?
Mr. Rogers because he makes everyone feel better.
Filed Under: Fellow Profiles, Profiles