Why Research?
Cancer care is rapidly evolving, which is really exciting for both patients and physicians. I was exposed to clinical research early on in my fellowship training. I realized that performing research doesn't just improve the lives of the patients I take care of today, but improves the lives of all patients in the future.
What brought you to Charlottesville?
I came to Charlottesville in 2011 to start my internal medicine residency. At the time, I figured Charlottesville would be a nice place to spend 3 years. My wife and I were hooked shortly after we arrived. We've had all three of our children in Cville, have a wonderful group of friends and colleagues, and it feels like we have grown roots.
What excites you about your work?
I get the most satisfaction out of direct patient interaction. Patients are frequently scared, stressed, and often confused by the onslaught of information they receive when they get a cancer diagnosis. I find that helping them to better understand their cancer and the battles they face is a very rewarding experience.
Proudest/greatest achievement outside the professional realm?
Outside of marrying Meghan and our three beautiful daughters, I would have to say my first (and only) hole in one. It happened in high school at the public course I played in the summers. I usually played by myself and luckily the group ahead of me had stopped to let me play through, so I had witnesses. Hopefully, I can get another one during my golfing lifetime.
Next life?
Probably a golf pro. I don't think I'd ever be good enough to make a living playing golf, but I could probably have just as much fun working at a course and teaching the game.
What are you usually doing in spare time?
If I'm not playing with my kids, then I will probably sneak away to the golf course or driving range.
How did you meet your partner?
Meghan and I met in college. Our two groups of friends hung out a lot. In the spring of our junior year, many of our friends left to study abroad. We got to know one another a lot better with the smaller group. We started dating shortly after the start of the semester and 15 years later we are still going strong.
Favorite vacation/activity spot?
We go up to Cape Cod almost every summer. Between the trips to the beach, a couple rounds of golf, and great home-cooked meals, it is always a relaxing trip.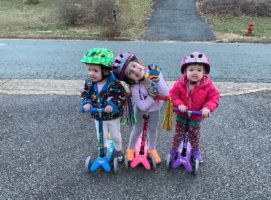 Most admired person, and why?
My dad. He had to work through a lot of challenges in his early life. He worked hard, developed skills any way he could, and was able to make the most of everything that came his way.
Best advice anyone ever gave you?
"Let the shot develop." My dad received this advice from a caddy during a golf trip to Scotland and passed it on to me. He had hit what he thought was a bad shot, that ended up being quite good. I think it applies well to the times in life when things don't seem to be going your way or according to plan. If you let it play out, you might be surprised how good things end up.
What about you would surprise us?
I was the lead singer for a punk/emo rock band in high school. We played several shows in community halls and friends basements. This was pre-internet, so I don't know if there is any evidence of this in existence.
Filed Under: News and Notes
Tags: April Medicine Matters Newsletter, faculty, profile, profiles