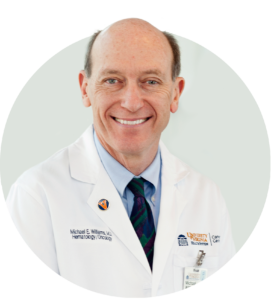 The Hematology/Oncology Faculty continues to provide a high level of academic productivity and national presence, a growing research portfolio and an outstanding environment for training. Our work has been supported by new clinical space, including the December 2019 opening of a 54 bed infusion center on the Couric Center 4th floor, with expanding exam and workroom space on the 2nd floor later this year. The UVA Breast Care Center will open Fall 2020 on Pantops, and we anticipate an expansion of inpatient bed capacity later this year.
The NCI-designated UVA Cancer Center remains in the Top 50 U.S. News & World Report rankings, with clinical research staff supported by new office space on the 3rd floor of the Education Resource Building that opened in January 2020. This places about 60 members of clinical research teams immediately adjacent to the Couric clinics and infusion center, greatly facilitating interaction with patients and disease-specific teams.
Our multidisciplinary teams provide integrated, state of the art diagnostic and therapeutic management for all cancers and blood disorders, and our community-based offices and infusion centers at Augusta (Drs Paphitis and Abdelmalek), Culpeper (Drs Patel and Mahjoub) and Pantops (Dr Johann Hsu) are a terrific resource for patients in those areas, extending the reach of UVA services and optimizing patient convenience. We're proud of the fact that 18 faculty members were recognized for achieving Press-Ganey scores above the 97th percentile in FY19 – Dr Michael Douvas achieved a 100% score for the second year in a row!
Our Fellowship Program's national visibility and reputation have grown under the leadership of Dr Richard Hall, with a record number of applications this year. We're pleased that many of our graduates now hold academic faculty appointments, and that our fellows have numerous active research projects, many presented at national and international conferences. The Program recently received two very generous endowments, the Weiss Family Bicentennial Fellowship Fund from Emeritus Professor and former Division Chief, Dr Geoff Weiss and Martha Weiss, and the Wells Sargeant Family Bicentennial Fellowship in Oncology from Ms Susan Wells Sargeant. These Funds will support research training and catalyze academic careers and are gratefully acknowledged for the impact they'll have in the coming years.
Please see the many additional highlights below regarding the Division's extramural funding, publications, faculty achievements, and educational programs. It's gratifying to see the progress of recent years, and I'm indebted to each member of our faculty, advance practice providers and care coordinators, investigators and staff who demonstrate excellence every day to improve patient outcomes and to contribute importantly to the rapid advances in our field.
Enjoy the features and photos in the April 2020 edition of Medicine Matters – they remind us that, while our missions are serious and essential, we also enjoy the collegiality and day-to-day interactions with such a dedicated and wonderful group!! ~ Michael E. Williams, MD
Filed Under: News and Notes
Tags: April Medicine Matters Newsletter, DOM, Hematology, oncology