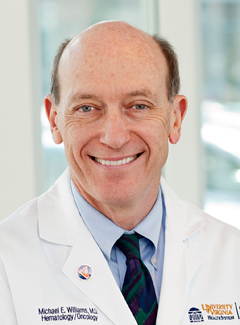 The Division of Hematology/Oncology has had a productive and exciting year of continued expansion of clinical programs as well as translational research and clinical trials.  The Division contributes importantly to the UVA Cancer Center in its progress towards achieving NCI Comprehensive status designation.  The Cancer Center is recognized in national ratings, including being number 26 in the U.S. News & WR ranking (top 3% nationally) and as Becker's top Cancer Center in Virginia. Our Stem Cell transplant volumes are projected to reach 120 patients in FY20, twice the number of two years ago, and the program has established chimeric antigen receptor T-cell (CAR-T) cellular therapy clinical trials and FDA-approved products for relapsed high-grade lymphoma.
Highlights among the Division's activities include:
Firas El Chaer joined the faculty from the University of Maryland. His clinical focus is in myeloid malignancies; he also has training in infectious disease focused on immunosuppressed patients.
Bispecific antibody-based cellular therapeutics (BATS) for solid tumors – generated in the new Center for Human Therapeutics in Pinn Hall, under the leadership of Dr. Larry Lum
Establishment of a comprehensive Sickle Cell Disease program – Dr. Kelly Davidson
Establishment of an Adult Comprehensive Bleeding Disorders Center – Dr. Louise Man
Establishment of a multidisciplinary Molecular Tumor Board – Dr. Matthew Reilley
Elizabeth Gaughan, Hillary Maitland and Craig Portell were promoted to Associate Professor this year
Clinical trial results and translational research programs have led to numerous publications and presentations at national and international conferences.
The NASA Twins Study, a multidimensional analysis of a year-long human spaceflight and genomic effects, was published with extensive national media attention – Dr. Francine Garrett-Bakelman led the study and was first-author on the publication (Science, 2019)
Improving Duration of Therapy and Outcomes in NSCLC Patients Receiving Targeted Therapy, accepted for funding by the Lung Cancer Research Foundation (LCRF) – Dr. Ryan Gentzler, PI
Targeted agent/checkpoint inhibitor trials in lung cancer – Drs. Ryan Gentzler & Richard Hall
Accrual leader in national MDS/AML trials – Dr. Michael Keng
Phase Ib UVA-initiated trial of ibrutinib plus venetoclax in R/R mantle cell lymphoma, being presented at the American Society of Hematology annual meeting on December 7 – Dr. Portell
KITE Pharma Zuma-7 CAR-T trial in R/R aggressive lymphoma – Drs. Portell and Varadarajan
Numerous new GI (Drs. Kunk, Le, Reilley), GU (Drs. Devitt and Dreicer) and Breast trials (Drs. Brenin, Dillon, Millard); i
Investigator initiated trials (IITs) by Drs. Kaur (Head & Neck cancer), Gaughan (Melanoma), Kindwall-Keller (SCT) and Michael Douvas (ALL)
Fellows now rotate in disease specific clinic blocks, with training augmented by online resources, conferences, and one on one meetings with disease experts.
New Fellowship curriculum to teach resiliency skills led by Dr. Trish Millard
New clinical research training curriculum led by Dr. Matthew Reilley. A new faculty mentorship program that includes a career development plan for each junior faculty member, led by Dr. Karen Ballen, Associate Division Chief.
Another successful Faculty Research Research Forum was held on November 6, providing Residents and Fellows with overviews from multiple faculty members regarding their research and projects for trainees to join.
We're looking forward to another productive year in 2020, Michael Williams, MD, Chief, Hematology/Oncology
Filed Under: Faculty News, News and Notes, Notable Achievements, Top News
Tags: december medicine matters, December medicine matters newsletter, faculty, fellows, Hematology, oncology