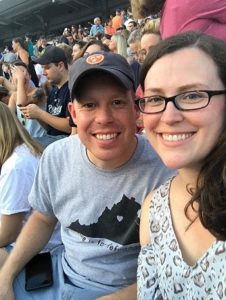 Why Healthcare?
It is a mix of so many things that are important to me: helping individuals that need it most, public health, basic science, and social justice.
What brought you to Charlottesville?
I came to Charlottesville for residency and stayed on as a hospitalist. Charlottesville—an artsy college town in the mountains–is perfect for our family.
What excites you about your work?
The variety. Caring for patients with unique backgrounds, applying lessons learned in clinical practice to teaching residents and medical students, and pursuing scholarly activities when able. Also, the people—our group has a passion and energy for work that is contagious. It's fun to be part of a great team.
Proudest/greatest achievement outside the professional realm?
Becoming a dad. My daughter Grayce is amazing.
Next life?
I need multiple lives. Evolutionary biologist (was almost this life), Foreign Service Officer, astronaut (without my fear of heights), globe trekker.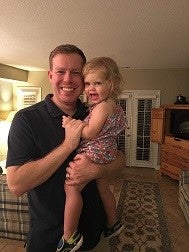 What are you usually doing on the weekend?
4-year old activities. Soccer practice, Swim lessons, Bounce-n-Play, and Little Gym. Then hopefully making it out to a winery.
Favorite vacation/activity spot?
Hilton Head, SC for vacation each year, but I like traveling to new places with some outdoor adventure.
Most admired person, and why?
Dolly Parton. Came from little means but never forgot. Always serving, always working, and always giving back.
The best advice anyone ever gave you?
"Sooner started, sooner done." – Dad
What about you would surprise us?
I very much enjoy keeping up with politics, reading books on astrophysics, and following University of Tennessee sports.
Filed Under: Faculty Profiles, Profiles
Tags: GENERAL MEDICINE, medicine matters, newsletter, November Medicine Matters, November Medicine Matters Newsletter, profile, profiles