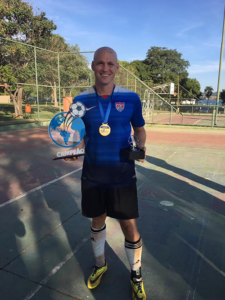 Tell us a little bit about yourself.
I've been at UVA for 1 year, after an early career as a military and embassy physician. I grew up in Northern Virginia, attended college and medical school in Virginia, and lived in a lot of places early in my career (Hawaii, Georgia, Washington, Kuwait, and Brazil). My clinical practice is in general internal medicine with a focus on public health, transitions of care, and education of medical residents. I am a foundations of clinic medicine coaches at the School of Medicine and am interested in leadership. I live in Ivy, have a wife and 2 kids, and two labs.
Why Healthcare?
I have always been interested in people. With that, I was drawn to medicine from an early age. How better to interact with people than during times that range from the lowest of lows to the highest of highs? I have always been very comfortable in front of people and get great enjoyment out of teaching. Thus, I am naturally drawn to being an educator of both patients and medical professionals.
What brought you to Charlottesville?
My relocation to Charlottesville was very purposeful. I spent the previous decade living far away. I gained a lot of foundational insight into myself and others being immersed in other cultures. However, my family and I were ready to be done with that stage in our lives. My most fulfilling professional time to date had been the years I had spent at a major academic center. I knew that I wanted to go back to a similar setting permanently. I also knew I wanted to be relatively close to my family in the Washington, DC, area. Finally, I needed the charms of rurality, and this is clearly something that the Charlottesville has to offer.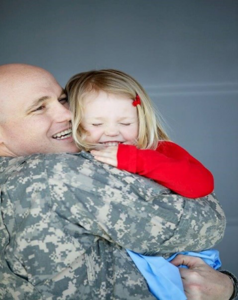 What excites you about your work?
Just about everything excites me about work. I love teaching. I love taking care of patients. I love getting to know both students and patients. Probably the best part of work is the variability one has in the academic setting. One day you are seeing a private patient from just west of town. Another day you are staffing a resident patient who has traveled from 4 hours south of town. The next day you are teaching a group of medical students what it means to be a physician. It is always fun and often different day to day. I embrace this variability.
Proudest/greatest achievement outside the professional realm?
My greatest achievement is my kids. I have two wonderful children, Anna and Miles. The best thing about them is that they really get along well. They are currently six and nine and can play for hours without much of an argument. I am very proud of everything they do and what they may become.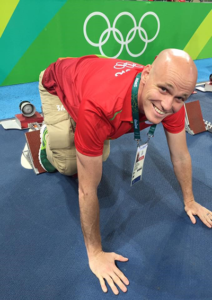 Next life?
My next life would be a coach for a professional or college sports team. I have always been a huge fan of sports. I have never wrapped my head around how one becomes a serious coach. However, I am envious of what a coach does. They mentor, educate, and often heal their players. Seems like a great fit for me.
What are you usually doing on the weekend?
On the weekends, I am often coaching my children's baseball, softball, and soccer teams. After that I enjoy spending time with my family and neighbors outdoors talking, grilling, and doing yard work. I also enjoy walking my dogs through various dirt roads in the county and hiking the many awesome trails in the Shenandoah and surrounding areas. You will also see me at just about every UVA sporting event I can go to.
Favorite vacation/activity spot?
My favorite vacation by far is Sebago Lake, Maine, in the summer. Nothing beats 80 degrees, a warm breeze, and the cold clear water. I enjoy long open water swims, running the railroad tracks and jumping in the water, and spending time with my family by the campfire.
Most admired person, and why?
I admire my parents the most. I have taken a lot from each of them. My father instilled in me the dedication to be a leader and serve our country as a military officer. My mother instilled in me the passion to help and take on the suffering of others as a medical professional.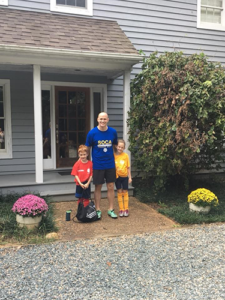 Best advice anyone ever gave you?
The best advice anyone ever gave me is to give everyone the benefit of the doubt. To that, I must say we should always consider people intelligent and with the best interest at hand.
What ultimately distinguishes us as a healer is how empathetic or kind we are to each other. This can be applied to patients, learners, and colleagues.
What about you would surprise us?
In my next life, I'd like to be a meteorologist. I am always up on the weather, tracking storms, and warning others about what is to come. Kind of like a physician you are not always going to be correct. Instead, it is the information you provided and how you interpreted it that is important. I am also a twin, and my twin brother has a full head of hair. I clearly do not!
Filed Under: Faculty Profiles, Profiles
Tags: DOM, faculty, GENERAL MEDICINE, Geriatric Medicine, GMGPC, medicine matters, newsletter, October 2019 Newsletter, October Medicine Matters Newsletter, Palliative Medicine, profile, profiles