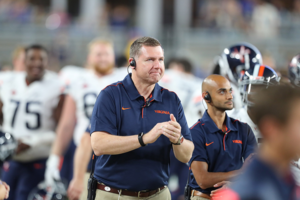 By John MacKnight, MD
When I began my faculty career here at the university in 1996, I could not have dreamed that my professional life would evolve into the dream job of any sports medicine provider. It was my good fortune that Danny Becker and acting chair Munsey Wheby envisioned a musculoskeletal care and teaching niche for me. In just three years I had established myself in the sports medicine community and had created a primary care team physician model with UVA Athletics that had never existed before. Over the years my clinical responsibilities have varied considerably between University Physicians Charlottesville, Athletics, and a joint appointment in Orthopedics. It's been a joy and challenge to wear all of those hats.
Day to day management of our student-athletes involves the usual maladies of young adults superimposed on the nuances of their athletic demands, the time of the season, and travel. Those are fun challenges to work through. In recent years, our attention has focused more heavily on the management of concussion and concerns about the long-term consequences of head injury, heat illness and the prevention of heatstroke, eating disorders and disordered eating, and the full breadth of mental health concerns. On any given clinic day, I'm using almost all of my primary care skills in one session. Away from the clinic, I have worked every football game for the last 20 years and every men's basketball home game as well as ACC and NCAA tournament games. The fall and spring sport demands can really wreak havoc on my clinic schedule, but my patients graciously roll with it, and some clearly like having the "Hoos Doc" for their physician.
In my capacity as a UVA team physician, I've had the privilege of helping countless patients from the community reach their exercise and competitive goals. I've worked with individual national champions, professional athletes, World Cup stars, and Olympians. I've been a part of 15 NCAA national championship teams, many ACC championships, and 10 bowl games. Without question, my professional highlight to date was the 2019 men's basketball national championship. That team embodied all that is great about collegiate athletics. No team will ever have a greater comeback story, and I am humbled to have played a small role in their success. What a thrill to climb the ladder in Minneapolis and help to cut down the championship nets.
I am thankful every day for the opportunities that the Department of Medicine has encouraged me to pursue. Many more to come! Go, Hoos!
Filed Under: Clinical Research, In the Know
Tags: DOM, GENERAL MEDICINE, Geriatric Medicine, GMGPC, Palliative Medicine, Research, sports medicine