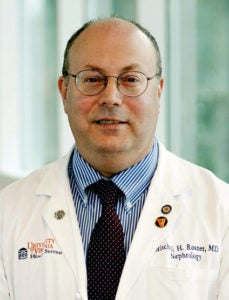 Welcome to August and the newest edition of Medicine Matters. We have now closed the books on the 2019 academic year and I am very proud of our collective accomplishments. All too often, we focus on financial performance but this is really a poor way to assess the contributions and successes of a Department of Medicine. Instead, I want to highlight some of the remarkable results that we should take great pride in.
On the clinical side, we continue to be the destination for care in the state of Virginia. A recent analysis from Vizient for the Department showed that in FY2018, patients identified as first seeing a Department of Medicine provider went on to have more than 34,000 other health system visits and over 43,000 procedures. We drive many of the activities of the Health System. In addition, we continue to deliver care at the highest quality that continues to improve. In each Division, every day we are there for our patients and giving people hope and the very best possible outcomes.
Within the realm of research and academic activities, Department faculty publish near 2 high-impact, peer-reviewed, publications per day. Faculty are lead presenters at meetings across the world, receive awards for their research and accomplishments and lead national and international societies. Our research portfolio accounts for nearly 25% of all of the School of Medicine. We are continuing to actively recruit investigators and push the boundaries of discovery.
Educationally, we are institutional leaders. We, once again, won the Mulholland Award signifying our contributions to medical student education. We continue to recruit the very best trainees for residency and fellowship training. Graduates from our programs become leaders in their fields. Without doubt, we are training the next generation of doctors with a focus on excellence and providing the very best role models for them.
So, while we face the frustrations and obstacles of our everyday work, please remember that you are among the very best in the country and that every day we really are making a difference in people's lives in many tangible ways.
Mitchell H. Rosner, MD, MACP
Henry B. Mulholland Professor of Medicine
Chair, Department of Medicine
Filed Under: Message from the Chair, News and Notes, Top News
Tags: August 2019 Medicine Matters, August Medicine Matters, August Newsletter, Awards, DOM, Education, faculty, fellows, fellowships, GI, ID, In Memoriam, Medical Grand Rounds, medicine matters, Nephrology, newsletter, profile, profiles, Publications, Research, Residents, Rheumatology, september medicine matters, september medicine matters newsletter, staff, Volunteering