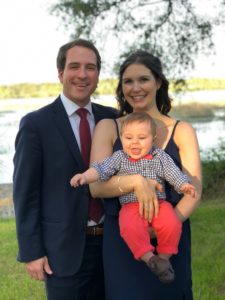 Tell us a little bit about yourself.
I've been at UVA for two years as a fellow in the Division of Gastroenterology and Hepatology. I completed undergrad and received my medical degree at UNC-Chapel Hill and then completed internal medicine residency at UCSF in San Francisco. I live in Pantops with my wife, Kali, our 9 month-old son, Boden, and our Bullmastiff named Gandalf.
Why Healthcare?
I enjoy the personal interaction with my patients as well as working within a team of other dedicated clinicians, nurses and clerical staff who all share the same goal of providing high quality care.
What brought you to Charlottesville?
It's a great place to train and live. My sister and two nephews live in Crozet and living in a college town is always a plus.
What excites you about your work?
Medicine is constantly changing and advancing. My clinical focus is on Inflammatory Bowel Disease which is currently experiencing an explosion of new therapies and we have so much left to learn about this collection of diseases.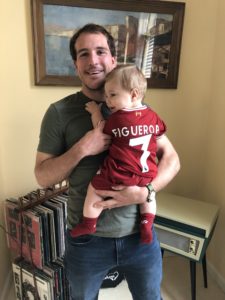 Proudest/greatest achievement outside the professional realm?
The birth of my first born child September 18th 2018.
Next life?
Chef. I love cooking and find it to be a creative outlet that other people can enjoy, which is more than I can say about my attempt to learn how to play guitar.
What are you usually doing on the weekend?
Spending time with my family, playing soccer, watching Liverpool FC or Formula 1.
How did you meet your partner?
We started dating in High School and our year book superlative senior year was cutest couple.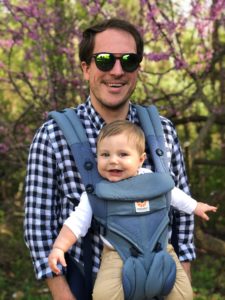 Favorite vacation/activity spot?
Tokyo, Japan.
Most admired person, and why?
My Dad, he is an extremely hard worker, patient, and always generous with his time.
Best advice anyone ever gave you?
Study abroad when you are in college.
What about you would surprise us?
My guilty pleasure is secretly enjoying the Bravo TV shows my wife watches.
Filed Under: Fellow Profiles, Profiles
Tags: DOM, fellows, fellowships, GI, July Medicine Matters, newsletter, profile, profiles