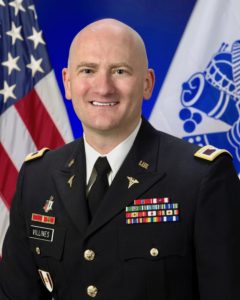 Tell us a little bit about yourself.
I recently started on 1 May 2019 as a Professor of Medicine in the Division of Cardiovascular Medicine at the University of Virginia. Prior to this, I was a Colonel in the United States Army Medical Corps where I served for more than 20 years in various roles, to include as a Professor of Medicine, Cardiology Fellowship Program Director, Director of Cardiac CT, and Director of Cardiovascular Research at the Walter Reed National Military Medical Center in Bethesda, Maryland. My family recently moved from Rockville, Maryland to Charlottesville, where we are currently building a home. I enjoy hiking, fly fishing, golf, and traveling.
What brought you to Charlottesville?
I recently retired from Active Duty Service in the Medical Corps where I was very involved as a clinician, but also enjoyed my role as a teacher, clinical researcher, and physician leader. I was very much drawn to the University of Virginia based on its excellent reputation in all of these areas and the amazing people that I had met at UVA during my career. Plus, Charlottesville is such a beautiful place to raise a family.
What excites you about your work?
I love caring for patients, getting to know them and their families, and helping them live the highest quality of life possible. Cardiovascular diseases have affected too many of my own family members and I want to help advance the care of patients through clinical work, research, and teaching. In the field of advanced cardiovascular imaging, where I do much of my research, I am convinced that atherosclerosis imaging using cardiac CT changes treatment will ultimately saves lives, and I hope to help grow this cutting-edge technology within the UVA Health System.
Proudest/greatest achievement outside the professional realm?
I am most proud of my wonderful family, their core values, and their enduring support during my career, especially during my deployments to Iraq and Afghanistan.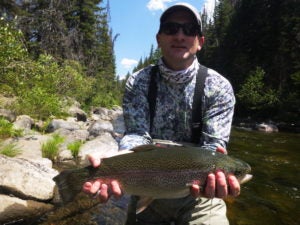 What are you usually doing on the weekend?
I am usually at a sporting event involving either my daughter (14 years-old) or son (10 years-old), hiking, working in the yard, or enjoying a nice dinner with friends and family.
Favorite vacation/activity spot?
I love just about anywhere where one can hike, fly fish, and enjoy the great outdoors. I love the mountains and have spent the past 3 summers in northern Colorado.
Filed Under: Faculty Profiles, Profiles
Tags: Cardiology, DOM, faculty, June Medicine Matters, June Medicine Matters Newsletter, medicine matters, profile, profiles