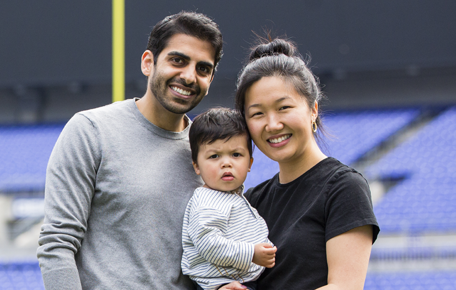 Tell us a little bit about yourself.
I grew up in California, born in San Francisco and raised in Los Angeles. I always thought that I wanted to be a doctor, but my foray into economics in college confirmed it. At Dartmouth Medical School I met my now husband, and we were fortunate enough to match together to UVA. We have been happily calling Charlottesville home for five years now.
Why Allergy and Immunology?
I have always felt drawn to academic medicine and thought I would subspecialize, but surprised myself during my pediatrics residency by loving primary care as well. While doing an allergy and immunology elective in residency, I realized I had found a perfect marriage of primary care, preventative medicine, and subspecialty knowledge. I love that I have the opportunity to take care of a spectrum of well and sick patients, and get to study the immune system in depth. It's a fascinating and burgeoning field, and I feel privileged to do this work.
Why UVA?
My husband's sister actually graduated from UVA the year we came here for residency. It was because of her that we knew how great Charlottesville is: festivals, concerts, beautiful hiking and wineries abound. When we were looking for residency spots, UVA offered strong academic programs in both our fields, as well as the sense of community and comradery we were looking for. I love working with the people here, both in pediatrics and in allergy/immunology.
Proudest / greatest achievement outside the professional realm?
I have travelled all over the US and Europe with choirs all the way through medical school. I have gotten to sing at Carnegie Hall and St. Peter's Basilica in the Vatican. It's pretty cool if you're a music geek.
What's one thing you always have in your fridge?
Eggs. Not only do I love breakfast at any time of day, but they are essential for baking, which is my favorite pastime. Have you heard of procrastibaking?
Where did you go on your last vacation?
It had been a while since I had spent the winter holidays with my family, so we all met in Berlin this year to see the Christmas markets. My family is really into food, and we had a great time eating currywurst and drinking gluhwine.
What do you do in your spare time?
My husband and I had a beautiful baby boy last year and love him to death. So what spare time?
Filed Under: Fellow Profiles, Profiles
Tags: Allergy, DOM, fellows, fellowships, May 2019 newsletter, medicine matters, newsletter, profile, profiles