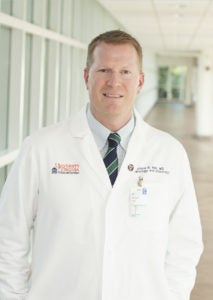 It is a great honor to facilitate the training of future hematology/oncology physicians at the University of Virginia. We have an outstanding and vibrant fellowship program in part because our specialty is a dynamic, rapidly changing field. An essential part of my job as program director is to teach future Heme/Onc physicians on strategies to stay sharp in a constantly evolving field of medicine. To that end, we made several significant changes to the structure of our outpatient training curriculum. Fellows now rotate in newly developed disease specific clinics, and their training is augmented by online resources, conferences, and one on one meetings with disease experts. During the March 2019 Graduate Medical Education week, Carolyn Carrera MD and I presented a poster with the first 6-month results of a project entitled, "Block Scheduling: It's Hip to be Square," that highlighted the improvements in fellow satisfaction with the new outpatient clinic structure.
This year we began new curricula to teach resiliency skills led by Trish Millard MD, and we re-organized our clinical research training curriculum with involvement of Matthew Reilley MD. Our fellowship leadership team consists of two Associate Program Directors, Laahn Foster MD and Craig Portell MD, who continue to evaluate how we can augment and improve our existing fellowship curricula and identify new opportunities to help our fellows grow professionally. We saw an outstanding fellowship recruitment in 2018 thanks to the hard work of many people especially Lisa Mackey, our program coordinator. We reviewed over 300 fellowship applications, interviewed 39 applicants, and matched 3 outstanding fellows who will join us in July 2019.
Lastly, our fellowship program depends on many people for its success from administrative team members to the many engaged faculty members who mentor fellows in clinic and with research projects. The support of the UVA Cancer Center, led by Tom Loughran MD, has been critical in supporting the research mission of the fellowship and providing opportunities for our fellows to present research at national meetings. I personally look forward to an outstanding year ahead as the Hematology/Oncology Fellowship Program Director.
~Richard D. Hall, MD, MS, Assistant Professor of Medicine
Filed Under: Education, News and Notes
Tags: April 2019 Newsletter, April Medicine Matters Newsletter, Education, fellows, fellowships, Hematology, oncology