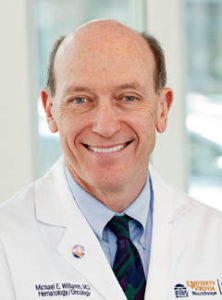 The Hematology/Oncology Division has enjoyed continued rapid expansion in faculty and programs during the past year, accommodating growth at our outpatient sites (Couric Center, Augusta, Culpeper and Pantops) and on our inpatient ward and consultation services. We welcomed three new faculty members this academic year: Drs. Trish Millard (Breast oncology), Michael Devitt (GU oncology) and Indumathy Varadarajan (Stem cell transplantation and acute leukemia) – each is adding importantly to our clinical and clinical research capabilities.
Highlights among the Division's new programs include CAR-T cells for lymphoma and bispecific antibody-based cellular therapeutics ("BATs") – generated in the new Center for Human Therapeutics in Pinn Hall, under the leadership of Dr. Larry Lum. Dr. Kelly Davidson established a Sickle Cell Disease program, and Dr. Louise Man is organizing the Adult Comprehensive Bleeding Disorders Center. Clinical trials and translational research programs have been highly productive this year, with numerous publications and presentations at national and international conferences. This work is integral to the NCI-designated UVA Cancer Center, led by Dr. Tom Loughran, one of 70 such centers in the U.S. The Cancer Center remains in the top 50 USN & WR rankings, the only such site in Virginia and again putting us in the top 3% of cancer centers nationally.
It's exciting to be part of such a dynamic and collegial group of faculty, fellows and staff, each of whom is committed to providing the best in patient care and educational experiences, and to advancing the field toward better outcomes for cancer and blood diseases. The coming year will see the opening of the new Infusion Center on the Couric Center 4th floor, a Symptom Management Clinic to expedite urgent patient evaluations and decrease the need for ED visits or inpatient admission, and expansion of clinical trials capacity. I'll look forward to updating our continued progress in future messages!
~Michael E. Williams, MD, ScM, Chief, Division of Hematology/Oncology
Filed Under: News and Notes
Tags: April 2019 Newsletter, April Medicine Matters Newsletter, Hematology, oncology