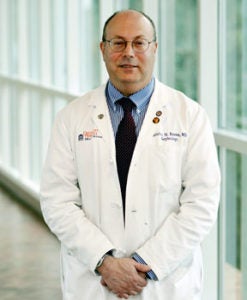 Spring is finally here and with this comes the optimism and freshness of this season. In this month's Medicine Matters, I think you will be impressed with the amazing achievements of the Division of Hematology and Oncology. Nine years ago, the Division was a third of this size and has grown significantly with the addition of world class clinicians, educators and researchers. The Division is now a leader in cellular therapies and poised for even bigger things to come.
In addition, you will see the names and photos of our newest intern class. These are amazing young men and women who will be the future of medicine and we are proud that we continue attract the very best trainees in the country. The residency program is the bedrock of the Department and our ability to have the strongest residents is critical to fulfilling our missions.
Lastly, it is time to celebrate another Mulholland Award. This award recognizes that the Department of Medicine continues to provide the very best teaching for our students. I am proud to say that we have won this award 7 times over the past 9 years. Congratulations to all and many thanks to everyone for their teaching efforts.
Mitchell H. Rosner, MD, MACP
Henry B. Mulholland Professor of Medicine
Chair, Department of Medicine
Filed Under: Message from the Chair, Top News
Tags: April 2019 Newsletter, April Medicine Matters Newsletter, clinics, DOM, Hematology, oncology, profile, Research