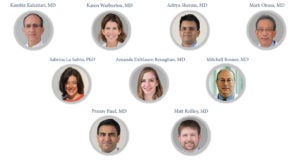 Dr. Kambiz Kalantari, The Division of Nephrology, was elected as The Harrison Distinguished Teaching Associate Professor of Medicine, and won The Jefferson Scholars Award for Excellence in Teaching.
Dr. Karen Warburton, The Division of Nephrology, was elected to Fellowship in the American College of Physicians. Status in the FACP reflects commitment and accomplishments within the internal medicine community.
Sabrina La Salvia, PhD, a postdoctoral fellow in Dr. Uta Erdbruegger's laboratory, The Division of Nephrology received a two year American Heart Association Postdoctoral Fellowship beginning summer 2019.
Drs. Sharma and Okusa were awarded the research grant, "Novel Cytokine Therapy for Type 1 Diabetes" for the project period November 2018 through October 2019.
Drs. Amanda DeMauro Renaghan and Mitchell Rosner, published "Hypercalcemia: Etiology and Management" in Nephrology Dialysis Transplantation (NDT) Digest.
Congratulations to Dr. Pranav Patel on being named in the February 2019 issue of Northern Virginia Magazine's list of "Top Doctors in Northern Virginia."
Congratulations to Mary Poss, DVM, PhD, Professor of Research, who started work in Dr. Thomas Loughran's lab on January 1, 2019 as a part-time employee.
New clinical trials opened for GI-Oncology/ Developmental Therapeutics in December and January.
There has been tremendous growth in the gastrointestinal oncology and developmental therapeutics clinical trial programs over the past year. In the past 2 months alone, 5 trials have opened for enrollment at UVA adding to treatment options available for patients. Trial treatments for our patients now include novel immunotherapies alone or in combination, cellular therapies, antibody-drug conjugates, and small molecular targeted therapies. On several early-phase studies, our patients have been among the first in the country to receive novel therapies. With the continued growth of the clinical trials program we look forward to offering additional options – and hope – to patients facing tough cancers. ~Matthew Reilley, MD
NCT03611556: A Phase 1b/2 Study to Evaluate the Safety, Pharmacokinetics, and Clinical Activity of Oleclumab (MEDI9447) with or without Durvalumab in Combination with Chemotherapy in Subjects with Metastatic Pancreatic Ductal Adenocarcinoma. PI: Matt Reilley
NCT02880371: A Study of ARRY-382 in Combination With Pembrolizumab for the Treatment of Patients With Advanced Solid Tumors. PI: Paul Kunk
NCT03485209: Open Label Phase 2 Study of Tisotumab Vedotin for Locally Advanced or Metastatic Disease in Solid Tumors. PI: Matt Reilley
NCT03673501: A Phase 3, Interventional, Randomized, Multicenter, Open-Label Study of DCC-2618 vs Sunitinib in Patients with Advanced Gastrointestinal Stromal Tumors after Treatment with Imatinib. PI: Matt Reilley
NCT03628651: Blood Sample Collection to Evaluate Biomarkers for Hepatocellular Carcinoma. PI: Matt Reilley
Filed Under: In the Know, Notable Achievements