Annual Appreciation Luncheon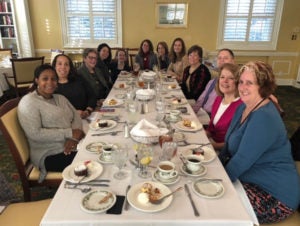 The central education administrative team met on January 15th for its annual appreciation luncheon. This event was sponsored by undergraduate clerkship directors, graduate program directors, associate program directors and the Chief Residents. This year's appreciation luncheon was held at the Greencroft Club where team members were celebrated and acknowledged for their continuous efforts to support our medical students and graduate medical education trainees in the respective UME and GME programs including their most recent recruitment efforts culminating in successful fellowship matches for all the subspecialty programs and what hopes to be a very successful residency match in March. The luncheon is always a special time for the team to meet and reflect on the past year's successes and to think about education goals for the upcoming year.
Vision Board Retreat
The central education administrative team met offsite Friday, January 18th for a "Vision Board" retreat to foster
team building, engagement, and personal goal setting. Following lunch, the team spent a few hours translating their goals for the coming year into creative vision boards utilizing images and words taken from magazines and transposing them onto poster boards for display and motivation. Themes around work/life integration, personal health and wellness, family, career success, life transitions, renewal and revitalization emerged, among others. The retreat set the tone for the coming year and was an excellent opportunity for the team to share their personal goals and visions as well as celebrate the end of a very busy interview season.
Filed Under: DOM in the News, Top News