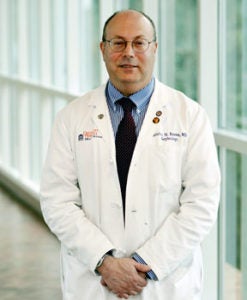 We are proud to present this month's version of "Medicine Matters" with a focus on the Division of Endocrinology and Metabolism. As you read through the accomplishments of this distinguished group of faculty and staff, I am sure you will be impressed by the significant, ground-breaking achievements that are so typical of the Division. Endocrine faculty are leaders in improving the care for patients with diabetes, hypertension, pituitary disease, reproductive hormone abnormalities and many other areas. The Division is also a great example of a community of faculty, fellows and staff that work together to improve outcomes. My thanks to the entire division for their tireless efforts.
The month also ends our yearly residency interviews and we should all thank the education team for their hard work and dedication through this long process. Dr. Brian Uthlaut, the Chief Residents (Drs. Walid El-Nahal, Carrie Hamilton, Amy Ogurick and Anthony Peters), Joy Hilton, Tony Brinkman, Erin Arnold, Terry Bennett, Margaret Kuhlman and many others have put together a fantastic interview day that highlights the Department and University. Our thanks also to the many faculty reviewers for their time. We have attracted an outstanding applicant pool, and many thanks to the team for their efforts.
Lastly, this month is a time to celebrate the legacy of Dr. Martin Luther King, Jr. We should continually strive to ensure that everyone in our organization as well as anyone that we touch is treated with the greatest respect and dignity. We are bound by a common goal of improving the human condition for everyone. Let's hold ourselves to this high ideal.
Mitchell H. Rosner, MD, MACP
Henry B. Mulholland Professor of Medicine
Chair, Department of Medicine
Filed Under: Message from the Chair