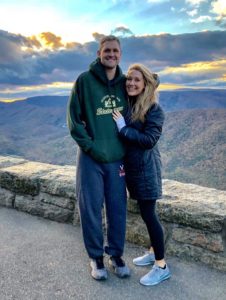 Tell us a little about yourself.
I've been at UVA for 3 years after growing up in Mississippi. I attended medical school at the University of Mississippi and completed an internal medicine residency at the University of Mississippi Medical Center. Following that, I was lucky enough to match into an endocrinology fellowship here at UVA (many thanks- it's been a blessing!). I currently live in downtown Charlottesville and have jumped wholeheartedly onto the UVA sports bandwagon.
Why Research and healthcare?
The answer to both questions is the same: I was diagnosed with type 1 diabetes at age 18 years. Living with diabetes has provided intense motivation to care for others and find new ways to improve care and quality of life for those living with the disease.
What brought you to Charlottesville?
The excellent endocrinology fellowship training program.
What excites you about your work?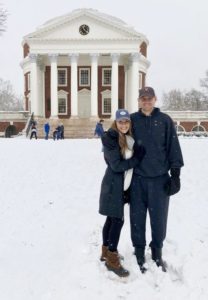 The opportunity to improve quality-of-life, and possibly even lifespan, for those living with diabetes. It's both exciting and rewarding. I'm sure people tire of reading answers like the one I'm about to give, but I really do wake up each morning excited about the work that lies ahead that day.
Proudest/greatest achievement outside the professional realm?
I won the Pinewood Derby in my hometown when I was a young kid. Does that count? I'm still more proud of that accomplishment than I probably should be….
Next life?
Probably living on a farm in the Smoky Mountains. Or being Tony Bennett and coaching the UVA basketball team. I'd settle for either option.
What are you usually doing on the weekend?
Sleeping in, exercising, watching UVA sports, and (most importantly) spending time with my significant other (Liz).
Favorite vacation/activity spot?
Anywhere with sun and a nice beach.
Most admired person, and why?
My father. A humble and hard-working man who goes out of his way to serve others. His life has demonstrated the benefit of having excellent role models for young people to follow.
Best advice anyone ever gave you?
"Let us not grow weary of doing good, for at the proper time we will reap a harvest, if we do not give up."
What about you would surprise us?
I have 7 nieces and nephews under the age of 6 years. Holidays are quite interesting in our (large) family.
Filed Under: Fellow Profiles, Profiles