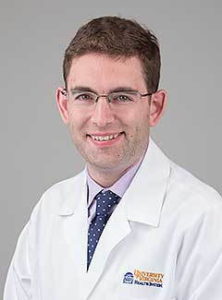 Tell us a little about yourself.
I've been at UVA since 2011 when I came for my internal medicine residency. After finishing residency, I stayed at UVA to undertake a fellowship in endocrinology which I finished in 2017. Since that time, I have been performing research on obesity related hypertension in addition to practicing endocrinology. I live in Charlottesville with my wife and 3 year old son.
Why Healthcare?
I first got interested in healthcare after a taking job as a cardiac tech at my local hospital in high school. I found that I liked working with patients and learning about various medical conditions. As I progressed through my training, I came to appreciate how every patient's situation is different and how there is always something more to learn.
My research interest developed during my residency and fellowship. I really enjoy the challenges involved in finding the right way to ask a question as well as the excitement of discovering new knowledge.
What brought you to Charlottesville?
I came to Charlottesville to do internal medicine residency. In addition to the medical center, I was attracted to the fact that Charlottesville has a manageable size but also a great deal of cultural and outdoor opportunities.
Proudest/greatest achievement outside the professional realm?
Running the Detroit half marathon in under 90 minutes.
Next life?
Diplomat or interpreter.

What are you usually doing on the weekend?
I'm usually spending weekends with my family. We enjoy taking walks around Charlottesville as well as hiking in the Blue Ridge.

How did you meet your partner?
I met my wife in residency. She was a year ahead of me and was actually my resident briefly for about a week (before we were in a relationship).
Favorite vacation/activity spot?
My favorite place to visit has probably been the White Mountains in New Hampshire. I've gone there intermittently ever since I was growing up in Maine and I think that they are certainly one of the most beautiful places I have ever been.
Most admired person, and why?
I really admire one of my mentors from residency who I think really exemplified how to be a good physician. Not only did he have excellent medical knowledge, but he was terrific in his ability to talk to patients and earn their trust. On top of that he was also a great teacher for trainees. I would like to think I have taken a lot from him in terms of my own approach to patients.
Best advice anyone ever gave you?
I had a faculty member on the wards in medical school who once told me "It's a long career. If you're not having fun then you're probably in the wrong place." Even though there are always tough days, I try to keep this in mind when I think about what I do.
What about you would surprise us?
I was actually a Russian language and literature major in college before I went to med school.
Filed Under: Faculty Profiles, Profiles