A life-long Midwesterner, I grew up in Des Moines, Iowa (not to be confused with Idaho which is where the potatoes grow or Ohio which may almost be Midwestern but is definitely NOT the same state). Although I informed my family that I wanted be a doctor at the age of two, I took a brief hiatus from this plan to major in music at the Wheaton College in Wheaton, Illinois. However, I ultimately decided that the life of a musician made for a better hobby than a career. Consequently, after spending a year as a nursing assistant on the neuro/trauma floor of a local hospital, I enrolled in medical school at the University of Iowa. After graduation from Iowa, I moved to Minneapolis, Minnesota for internal medicine residency in the Global Health Track at the University of Minnesota. Given my interest in medical education, I completed an additional chief resident year before moving to Charlottesville, Virginia for infectious diseases fellowship in June, 2016.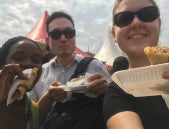 I am currently in my third year of infectious diseases fellowship here at UVA. My particular areas of interest include tropical infectious disease, providing healthcare in resource-limited settings, and the management of infections in non-HIV immunocompromised patients. I am currently working on a project examining the etiology of post-chemotherapy infections at Uganda Cancer Institute in Kampla, Uganda, where I will be living and working from January-June, 2019. Ultimately, I would love to help in the development of treatment protocols for post-chemotherapy infections in patients living in sub-Saharan Africa and practice immunocompromised infectious disease in a university setting.
Why Infectious Diseases and Global Research?
I first became interested in tropical medicine when I took a parasitology course in college. Sadly, my
roommates didn't understand how cool the class was and promptly banned me from discussing it after deciding it was "much too gross to talk about". I really began to consider a career in global health in medical school when I spent a summer studying leishmaniasis in the parasitology lab at Hospital Escuela in Tegucigalpa, Honduras. It was here that I started to understand the positive impact that collaborative international research could have on improving healthcare and patient outcomes in low-resource settings. It also confirmed my suspicion that the interactions between hosts and pathogens are really, really cool and that ID is the best medical subspecialty out there. This was reiterated through multiple ID rotations throughout medical school and residency where I discovered that the ID physician gets to see the most interesting cases in the hospital, acts like a medical detective, and can actually cure people!
What Brought You To Charlottesville?
At my UVA interview, I was particularly impressed by the number of smart, engaged, and clinically-oriented fellows and faculty I met throughout the day. I was also struck by the program's dedication to investing in an individual fellow's unique research niche based in her interests. As a medical trainee interested in a career in international research, I was really looking for a program that appreciated the challenges and complexities of initiating a global health career and where faculty was actively striving to engage in true partnerships with local physicians and researchers. I have remained impressed by the department's willingness to support my rather unique combination of interests by providing endless support and the resources to do what I love.
What Excites you About Your Work?
The ability to make a difference in a patient's outcome whether it is through providing direct patient care or figuring out optimal infection treatment protocols. I love exploring the differences in infections that patients develop based on exposure risks and varying geographic locations. This becomes particularly exciting when trying try to figure out if we should be altering our treatment guidelines to fit local infectious disease profiles. I also really like working the clinicians across multiple disciplines and locations to provide good patient care.
Proudest/Greatest Achievement Outside the Professional Realm
Probably making the principal clarinet player in my college orchestra. There is nothing quite like leading the clarinet section of a large orchestra while playing some of the greatest classical music ever written.
Next Life
Who knows… maybe I would see what my life as a professional musician would have been like. Alternately, I really love teaching so could have been some type of a teacher.
What are you Doing in Your Spare Time?
When I'm around Charlottesville, you will probably find me either at FlyDog Yoga Studio trying not to die in Maryanne's killer heated vinyasa class, in my kitchen cooking or baking, driving around the city antiquing/thrift shopping, or out with friends at a local restaurant/winery/brewery. If I'm not in Charlottesville, I'm probably traveling to visit friends or family throughout the United States or taking an international trip.
Favorite Vacation Activity/Spot
While international travel is one of my hobbies, the beach is my happy-place where I go to relax when I need some down-time. My parents recently retired and now own a condo on the beach in Florida which is where I go to escape when I need a few days away from everything.
Most Admired Person and Why
I have many amazing people in my family, but have always been particularly impressed by my great-grandmother, Evelyn Magnuson, who raised a family as a single mother during the depression after her husband died. In a time where it was often frowned upon to be a single woman working outside of the home, she was an independent lady who took on multiple jobs to support and raise her family. She encouraged all of her children and grandchildren to get a good education and to follow their own career paths. Despite her challenging circumstances, she retained a great sense of humor and was a really nice person who was always willing to help others in need.
Best Advice Anyone Ever Gave You
"Balance is something you create, not something you find". In medical training, it can be really easy to focus on career-development to the exclusion of the things that make you a well-rounded and happy person. A balanced life is not something that just happens. It is cultivated through actively deciding what is important to you and making those things a priority.
What About You Would Surprise Us?
For a while, I was jokingly referred to as the "bringer of disasters" due to the fact that every time I went on an international trip, some type of terrible event occurred. Thanks to this, I survived a political coup in Honduras and left Nepal just days before the huge earthquake occurred in 2015.
Filed Under: Fellow Profiles, Profiles