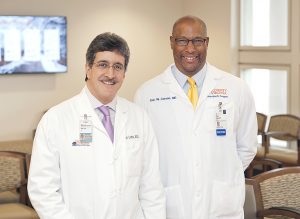 Congratulations to Max Luna, MD, Associate Professor of Medicine and Eric Carson, MD, Associate Professor of Orthopaedic Surgery, on receiving the 2018 Martin Luther King, Jr. Health System Award. This award is presented annually to a student, faculty or staff member of the Health System who embodies Dr. Martin Luther King's values and teachings in cultural competence, healthcare disparities, or fostering an environment of inclusiveness, in accordance with the institution's mission and values.
Dr. Luna's nominators say that he "exemplifies the spirit of this award in his clinical practice and community centered work which is focused on delivering the highest quality care to the Latino community. … He is using his knowledge about UVA, cardiology, and Spanish, in combination with his dedication, his free time and his heart, to make a difference to a neighborhood/population in Central Virginia.
When asked how he felt about receiving the award, Dr. Luna said, "My efforts and achievements are only made possible with the collaboration of many medical students, faculty, community organizations and the people to whom we serve — people that are in so much need of attention and support."
Dr. Carson was nominated for a career that has "reflected a commitment to helping maximize opportunities for those individuals with less financial resources and social influence; and to that end, his efforts have helped not only his protégées but have had a beneficial impact on the UVA Department of Orthopaedic Surgery and the UVA [School of Medicine].  He has cultivated an environment of inclusiveness through his leadership, his example and his sustained presence."
Dr.  Carson says, "Martin Luther King, Jr. said, 'The function of education is to teach one to think intensively and to think critically. Intelligence plus character — that is the goal of true education,' and 'Life's most persistent and urgent question is, 'What are you doing for others?" These two quotes are pertinent to me and the life experience at the University of Virginia."
Luna and Carson were presented this honor at a special ceremony on Feb. 2 in Sandridge Auditorium. Past MLK award recipients include Pamela Ross, MD; Michael Moxley, MD; Dorrie Fontaine, PhD, RN; Joel G. Anderson, PhD, HTP; Fern Hauck, MD; and Charles Lewis.
Please join us on congratulating Drs. Luna and Carson on this outstanding recognition.
Filed Under: DOM in the News, Notable Achievements, Top News