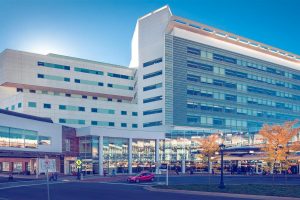 The 2017-18 U.S. News and World Report "Best Hospitals" guide rated UVA Medical Center as the No. 1 hospital in Virginia, and honored 11 specialties at UVA — including five in the Department of Medicine — as among the best in the U.S. This is the second consecutive year UVA has topped the Virginia hospital list.
Of the six specialties ranked among the top 50 nationally, three are in (or, in the case of Cancer, linked to) the Department of Medicine:
Three additional DOM divisions were among four honored as "high-performing" — rating among the top 10 percent nationally in their respective specialities:
"We are pleased to see our physicians and team members across UVA recognized nationally for their commitment to providing the highest-quality care for our patients," said Pamela M. Sutton-Wallace, chief executive officer of UVA Medical Center.
The U.S. News rankings and ratings are based on multiple factors, such as patient safety, patient outcomes, advanced technologies and patient services, physician surveys and accreditations from outside groups that include the National Cancer Institute and Magnet recognition for nursing care from the American Nurses Credentialing Center. UVA has received Magnet recognition and is a National Cancer Institute-designated cancer center.
"These awards reflect the ongoing collaboration of our care teams to find ways to improve on our excellent, specialized care," said Dr. Richard P. Shannon, UVA's executive vice president for health affairs.
[Adapted from UVA Health System news release, 8/7/17]
Filed Under: News and Notes
Tags: Awards, Cardiology, DOM, Endocrinology, GI, Hematology, Nephrology