Terry Bennett is the Department of Medicine's GME Compliance Manager, a job that entails making sure that all of DOM's education programs — including the largest residency program in the School of Medicine, and 19 subspecialty fellowship training programs — are in full compliance with a complicated array of rules and required tasks set by the Accreditation Council for Graduate Medicine Education (ACGME). It is a demanding job — and one she does superbly well. In recognition of her service to the department, the School of Medicine, and the University, Terry was honored with a Leonard Sandridge Outstanding Contribution Award this spring, the highest honor a UVA staff member can receive.
"It was Terry's excellent work record and reputation that prompted me to heavily recruit her for an education coordinator position in our department over seven years ago," wrote Nowoka Joy Hilton, DOM's director of education and Terry's supervisor, who nominated her for the award. Hilton was spot-on in her assessment; Bennett has been promoted several times, most recently to the GME compliance manager position.
DOM's three-year internal medicine residency program has approximately 100 residents enrolled in a given year, and its clinical fellowship programs add another 70 trainees. For the residents, the training requirements which Terry monitors include more than 1,000 rotations and more than 3,000 clinic sessions per year.
Terry became the first (and so far, only) member of DOM's education administration team to gain a TAGME ("Training Administrators of Graduate Medical Education") certification, which recognizes administrators who are "committed to promoting excellence in the management of graduate medical education training programs."
Terry provides exceptional leadership and support to fellowship program directors and fellowship coordinators in DOM's ten divisions, according to those who work with her. Coworkers, house staff and faculty alike rely on her extensive GME knowledge and skills. She has also served as a co-chair of DOM's Staff Employee Advisory Committee, and as chair of SOM's Graduate Medical Education Coordinators' Council.
"Not only does she execute these tasks remarkably well, but she does it with aplomb – unflappable, always smiling, always with a 'can-do' attitude, no matter how daunting the task," as one nominator wrote.
Congratulations Terry — and thank you for your dedication and hard work.
---
Adapted from UVA Today article by Anne Bromley, 6/6/17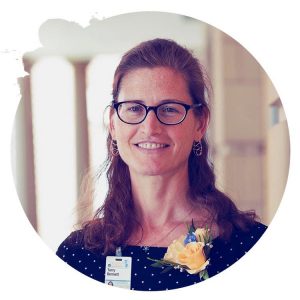 Terry recollects her experience of working with Leonard Sandridge:
"Many years ago, as an employee in the Department of Pediatrics, I co-chaired the Health System Academic Research & Employee Council (now known as the Staff Senate). In that role, I was privileged to meet with Leonard Sandridge on a regular basis. Simply put, his devotion to the University is unparalleled. Mr. Sandridge was a modest and particularly thoughtful administrator who always made staff issues and suggestions a top priority. I am truly humbled to receive this award that is given in his honor."
Q & A with Terry:
Who (outside of work) has influenced you most?
Most definitely my husband. He encourages me to be more light-hearted and step away from chores. He inspires me to seek passion in life. I can only hope to have an ounce of the wit and humor he has by the boatload.
Words to live by?
Be present and live in the moment: "All we have is now." – The Flaming Lips
One thing you always have in your fridge?
Funny thing is that my husband and I have had the same bottle of champagne in there for almost four years.
We were supposed to have popped it open when we sold our house in Crozet. After the sale, almost a year later, it hasn't happened!
A moment from the last few years in med-ed (or at home) of something that seemed like a crisis at the time but looking back seems humorous now?
Depending on how you look at it, negative attribute or positive, I have THE WORST MEMORY ever, so whatever crisis there may have been, in my mind, there are only good times! You could say that I am lucky for having built-in rose-colored glasses.
Filed Under: Notable Achievements