A Department of Medicine retreat, held on February 3 at Morven Farm in Albemarle County, aimed to smooth the path for DOM faculty members in the early stages of their careers as they chart a course towards promotion and tenure. Discussion topics included the annual review process, DOM/SOM finances, utilization of EPIC, and work-life balance.
Afternoon breakout sessions for the approximately 60 faculty members who attended provided an opportunity to air concerns and give feedback to the department and divisions on how they can be more responsive to the needs of this faculty cohort.
Presenters at the retreat included DOM chair Mitch Rosner, vice chair Alan Dalkin, and Division of General, Geriatric, Palliative and Hospital Medicine faculty members Stewart Babbott, Peggy Plews-Ogan, and John Schorling.
What participants said…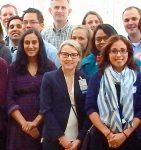 Monica Lawrence, MD (front row, far left), Division of Asthma, Allergy and Immunology:
"I really appreciated hearing more about the promotion and tenure process in a way that was easy to understand and approachable. Dr. Rosner and Dr. Dalkin made it clear they were rooting for us and would do everything they could to support and guide us in our promotion efforts.
"I also loved getting to meet some of my fellow junior faculty and putting faces to names. It makes it so much easier when you know the faculty physicians you are referring patients to, or getting referrals from."
Sana Khan, MD (middle), Division of Nephrology:
"Meeting and networking with other junior faculty and exchanging experiences and advice [were highlights]. Having focused discussions with different rotating facilitators was helpful and allowed for detailed and targeted conversations."
Filed Under: News and Notes