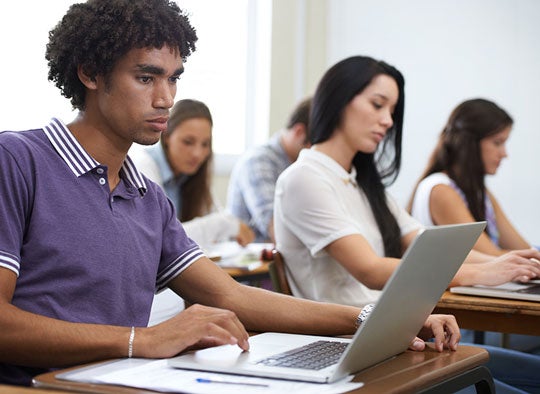 Republished from the Dean's Office Blog
The Graduate Record Examination (GRE) is a standardized test that most graduate schools across the nation require to accompany student applications. It certainly was required here at UVA's School of Medicine.
But not anymore.
As of this fall, the School of Medicine's Biomedical Sciences (BIMS) graduate program has eliminated the GRE requirement as a component of the application.
Why the change?
The GRE has been used as an indicator of a student's likelihood of success in graduate school. However, over the past few years, reports from Vanderbilt and the University of Carolina Chapel Hill have illustrated that the GRE is actually a poor predictor of success in biomedical sciences graduate programs. Additionally, there are other studies that show the GRE has strong biases against racial and ethnic minorities, females, and those from socioeconomically challenged groups.
Dropping the GRE is a growing trend. In fact, several institutions have already removed it as a requirement, including Massachusetts Institute of Technology; the University of Alabama at Birmingham; the University of California, San Francisco; the Rockefeller University; the University of Colorado, Denver (Anschutz), and the University of Michigan. Members of the Association of American Medical Colleges' (AAMC) Group on Graduate Research, Education, and Training (GREAT) recently performed a survey and found many more schools are in discussions to follow suit, including those to whom we perennially lose strong BIMS applicants, such as University of Pennsylvania; Washington University in St. Louis; University of North Carolina, Chapel Hill; Emory University; University of Chicago; Vanderbilt University; and others. Of the 90 schools/programs that responded to the survey, 50 percent have either already discarded the requirement (10) or are in discussions about doing so in the near future (35).
It was only three years ago when the National Institutes of Health (NIH) expressed little faith in the exam, too. They ceased requiring the reporting of GRE scores for appointees to T32 training grants and for applicants for individual fellowship awards.
At UVA, we are not the only ones evaluating the GRE as an application requirement. There has been discussion across Grounds, among the Graduate Affairs Network (GAN), and with Executive Vice President and Provost Thomas Katsouleas and the graduate deans about eliminating this test.
In short: The GRE is an obstacle that provides little to no value for us or our students. As such, we are eliminating it.
How will we evaluate potential students?
Going forward, we will be taking a holistic approach to the application review process and look at students' transcripts, grade point average, research experience, letters of recommendation, and personal statements. We will search for students who are passionate about research. We want them to be creative. We want them to have grit. We want them to have a deep appreciation for why they want to pursue graduate school in the biomedical sciences. We want to evaluate applicants on their abilities and their promise, not on a test score that has inherent biases. As always, we want the best and the brightest students.
It is my hope that strong applicants who were previously concerned about a low GRE score will now consider applying. I am very proud of our decision and look forward to seeing how this positively affects our BIMS graduate program.
R.J. Canterbury, MD, MS, DLFAPA
Wilford W. Spradlin Professor
Senior Associate Dean for Education
Filed Under: Media Highlights, Student