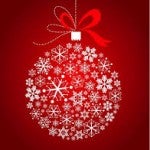 To celebrate the Holidays this year, the Department would like to initiate an effort to help some of the patients we care for by contributing to the Ronald McDonald House and the Diaper Drive (ongoing in the Pediatric Clinics through the efforts of Dr. Diane Pappas).
Instead of individual gifts, a donation to these organizations can be made in honor of a co-worker. Donations will be accepted through Friday, December 13, 2013.
Boxes will be available here:
Pediatric Department Mailroom
Pediatric HR area, Collins Wing (formerly Barringer) Room 2362
Department Holiday Party, December 10, Pediatric Conference Room, 3rd Floor OMS Room 3906.
Diaper Drive
Contributions of cash or gift cards can be given. This will be less cumbersome than bringing in actual diapers, and Dr. Pappas can then obtain the correct size of diapers as needed.
Ronald McDonald House
Immediate Needs
Paper plates (Heavy Duty, Microwave Safe)
Juice boxes
Keurig coffee K cups
Individual liquid coffee creamers
Fruit cups, Jell-O cups, pudding cups
Single serving bags of chips and pretzels
Granola bars
Pop tarts
Toddler microwavable meals
Nonperishable microwavable meals such as

Chef Boyardee microwavable meals
Hormel Compleats microwave meals
Hamburger Helper Microwavable Individual packets
Easy Mac cups
Cup of Noodles
Campbell's Microwavable Soups
Annie Chun's Noodle Bowls

Vienna sausages
General House Items
Ziploc bags (gallon sized)
Paper Towels
Forever Postage Stamps
Lysol Disinfecting Spray
Disinfecting wipes
Skin sensitive liquid laundry detergent
Hefty 30 gallon trash bags (lesser brands do not hold up)
Long distance phone cards
Forks, knives, and spoons
Liquid measuring cups
8 inch office scissors
General Food Items
Strawberry jelly
Coffee in tins
2 L drinks
Cereal (individual packets)
Thank you very much for supporting this effort.  Wishing you and your family a very Happy Holiday!
Filed Under: What's New
Tags: community