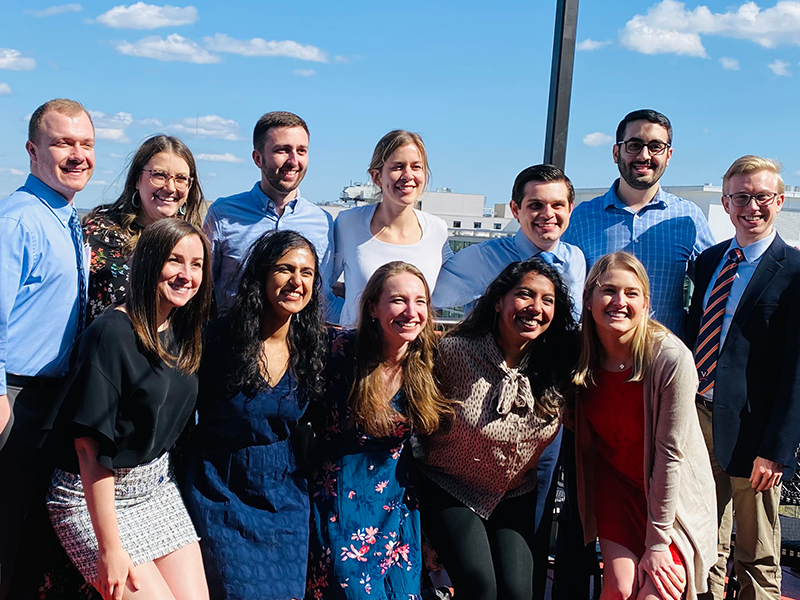 On April 3, the UVA School of Medicine Chapter of Alpha Omega Alpha held a joint induction ceremony for the Class of 2022 and the Class of 2023. Alumna Nora Kern, MD '09, presented the certificates virtually.
Alpha Omega Alpha is the only national honor medical society in the world. Membership in AOA recognizes and perpetuates excellence in the medical profession. At UVA, the goal of AOA is also to promote contact between the students and members who are practicing physicians, both here in the University and in private practice.
From the top quartile of students, each chapter may elect to AOA membership up to one-sixth of the projected number of students that will graduate. Those students chosen from the top quartile for election are picked not only for their high academic standing, but as well for leadership among their peers, professionalism and a firm sense of ethics, promise of future success in medicine, and a commitment to service in the school and community.
Approximately 6-9 students are elected following their second year based on a vote of peers and overall academic performance in an unweighted manner. Approximately 17 more are elected after their third year based on a vote of peers and cumulative academic performance in an unweighted manner.
Congratulations to these new AOA inductees:
Class of 2022
Naveen Ambati
Elias Ayoub
Briana Belmonte
Michael Borten
Andrew Burns
Jacqueline Carson
Xizhao Chen
Justin Coley
Courtney Duckworth
Farid Ghamsari
Courtney Heron
Eugenie Hughes
Hannah Kenny
Rebecca Kowalski
Prajeeth Koyada
Jaina Lane
Nicholas Lolli
Kara MacIntyre
Jasmine Malhi
Haley Meade
Nadine Michel
Nwanneoma Ngonadi
Leah Reichle
Zoe Roecker
Carol Rowley
Michael Salomon
Shambhavi Singh
Marc Vetter
Tiana Walker
Katherine Webb
Lindsay Whalen
Andrew Winkelman
Class of 2023
Jung Eun Ahn
Walter Banfield
Ashley Bolte
Colby Brunette
Anthony DeNovio
Kimberly Doerr
Marisa Duong
Nicole Edmonds
Oluwafunmilayo Eletu
Omar Elghawy
Faraz Farzad
Laura Fuhr
Danielle Hogarth
Anthony Ignozzi
Rohan Karanth
Jacob Kosyakovsky
Joshua Kowalczyk
Erica Mark
Kelley Mark
Ajay Mehta
Hayne Noh
Hakeem Oufkir
Krishna Patel
Brandon Podyma
Madisyn Primas
Emily Rabinovich
Miyabi Saito
Zachary Scharf
Julian Stashower
Eric Taleghani
John Wang
Amanda Ward
Christie Zheng
Filed Under: Honors & Awards