2020 was a year that shone a light on racial inequities ever present in our society, and COVID-19 directed that light more specifically to healthcare disparities.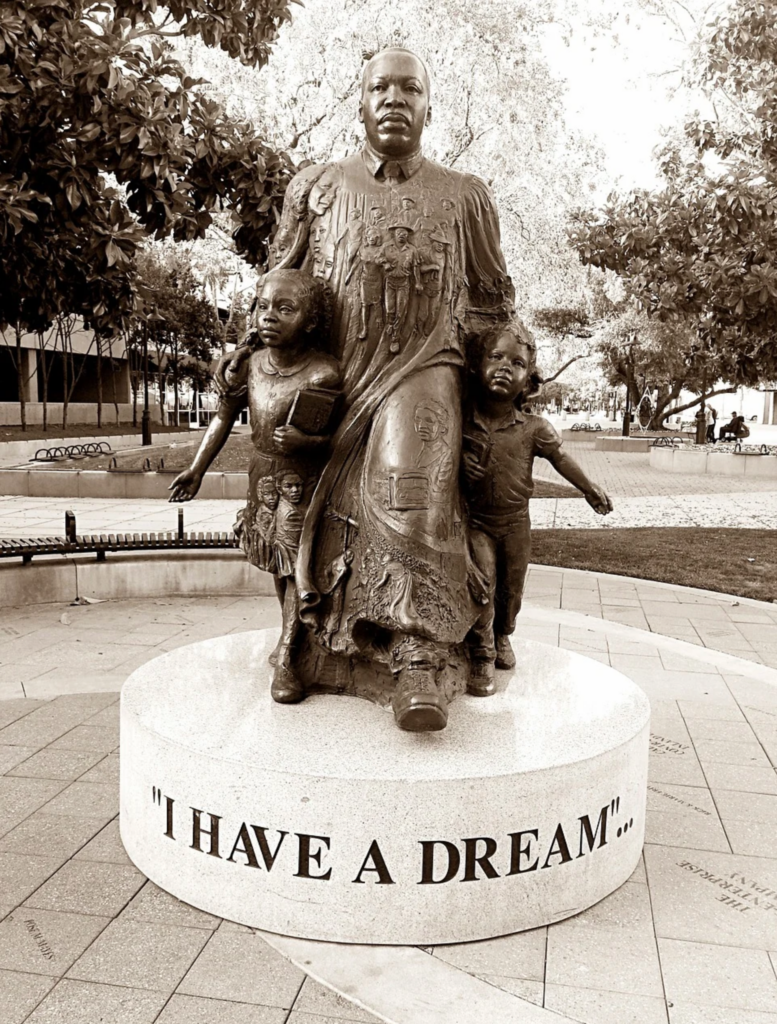 After such a tumultuous year, the Award Selection Committee tasked with recognizing the 2021 Dr. Martin Luther King University of Virginia Health System Award received a record amount of nominations. The committee and leadership are elated that so many individuals were recognized for their outstanding work.
The award is usually given to one or two outstanding individuals. This year, the committee has chosen 11 recipients for the 2021 Dr. Martin Luther King University of Virginia Health System Award.
Each of the awardees went above and beyond the call of duty for our health system: mentoring, providing a network to colleagues, writing children's books, communicating about racial disparities. Our award recipients have each promoted and fostered Dr. Martin Luther King's values and teachings.
The selection committee is pleased to announce the 2021 Dr. Martin Luther King University of Virginia Health System Award is being presented to (in alphabetical order):
Zahra Alisa, 3rd-year School of Nursing student
Taison D. Bell, MBA, MD, Assistant Professor, Pulmonary and Critical Care Medicine
Rudy Beverly, Manager, Patient Logistics & Support Services
Ebony Hilton Buchholz, MD, Associate Professor, Anesthesiology
Mark Fleming, MD, General Surgery Resident
Milania Harris, 3rd-year School of Nursing student
The Housestaff Council on Diversity & Inclusion
Sana Syed, MD, MS, Assistant Professor, Pediatric Gastroenterology
Tiana Walker, 3rd-year School of Medicine student
Bryant Cameron Webb, JD, MD, Assistant Professor, General Medicine, Geriatrics and Palliative Care
Leigh Ann Webb, MD, MBA, FACEP, Assistant Professor, Emergency Medicine
Here are a few excerpts from the nominations …
---
… for Zahra Alisa (right) and Milania Harris (left): "The week after George Floyd was murdered, Milania and Zahra contact faculty in the SON to ask how the School was planning to respond to what was going on in our country. … They suggested we consider coming together as a community, even though we were scattered across the country, and even though we were not in session. From the very start, their goal to use the SON as a platform for change."
---
… for Taison Bell, MD: "As a black physician, he stepped up to voice the community risk, calling for racial COVID-19 population data to be made public. As lead of the UVA MICU, he continues to take incredible frontline risk, inspire the unit to outperform consistently, and ensure that all understand he fundamentally cares about the holistic person both provider and patient."
---
… for Rudy Beverly: "[He] consistently demonstrates true team behaviors as both team lead and team member. What is most clear is his commitment to the safety of our patients and our team members. Rudy meets every situation as a consummate professional while also being highly personable. We would benefit from having more 'Rudys!'"
---
… for Mark Flemming, MD: "Dr. Fleming's passion for equity and diversity extends beyond the health hystem. As the COVID-19 pandemic impacted local schools, forcing children across the Charlottesville community to learn from home, Dr. Fleming and other Health System employees organized an effort to provide science, technology, engineering, and mathematics (STEM) boxes for elementary school children. Dr. Fleming, with an abundance of enthusiasm, played a crucial role in promoting the effort and enrolling volunteers. As a result, the team raised over $30,000 to provide approximately 2,000 STEM boxes to children in need."
---
… for Ebony Hilton, MD: "She is focused on exploring the issue of health disparities, particularly as it pertains to race and bridging the gap between physicians and the communities they serve. Her efforts are recognized by students, residents, teachers, medical organizations, political organizations, and the news media."
---
… for Housestaff Council on Diversity & Inclusion: "When it was decided we needed a forum for residents and fellows specifically dedicated to the issues of discrimination that non-majority Housestaff face regularly, HCDI quickly developed its governance, mission, and outreach strategies. It was initially viewed as a safe space for discussion and healing, but it evolved into a tour de force for recruitment of residents, fellows, and junior faculty. It has become the leading voice in what we – the entire physician community at UVA – need to do to redress our racist past, and finally move on to the community we want to be. Because of them, our ability to recruit and retain URM and other non-majority residents has increased substantially, despite the negative images now associated with UVA and Charlottesville."
---
… for Sana Syed, MD: "… one of the rare individuals who has relentlessly lifted others up around her and inspired others to do the same, who brings together individuals that value and embrace one another's differences, who strives to make sure everyone feels 'at home' around her, and whose work strives to level the playing field, in life and in the workplace."
---
… for Tiana Walker: "She has put countless hours into creating curriculum and publishing articles with a focus on improving diversity education, particularly anti-racist teaching, at UVA and in medical education more broadly. Her peers view her expertise and passion in this area with great respect. I am confident that if you asked any student, particularly in the Class of 2022, who they feel has done the most for diversity education at UVA, they would most certainly name Ms. Walker."
---
… for Cameron Webb, JD, MD: "As a hospitalist, Cam remains active in patient care, communicating effectively with families and other healthcare professionals. He demonstrates compassion, respect, and enthusiasm for being part of highly functioning team that provides world-class care to a diverse group of patients. To put it simply, he exemplifies kindness, intelligence and service. I mention this not because it is essential to the qualities listed for this award, but because it demonstrates that Cam is the genuine article: grounded in direct care of patients, while also pursuing social justice and racial equality: as the director of UVA Health Policy and Equity, and as the Democratic nominee for the U.S. Congress in Virginia's 5th district."
---
… for Leigh Ann Webb, MD: "Shortly after COVID-19 closed not only higher education institutions, but also daycares, elementary, middle, and high schools, Dr. Webb came along side of Dr. Ebony Jade Hilton to co-author, "We're Going to Be OK," a children's book designed to help children of color to face the pandemic with hope instead of the disparity that was plaguing their communities."
There will be an award ceremony at a later date to recognize the recipients; however, if you see one of these outstanding individuals around Grounds, please congratulate and thank them on their tireless work this past year. They are an inspiration for us all.
About the Award
Established in 2013, Dr. Martin Luther King University of Virginia Health System Award is presented annually to a student, faculty or staff member of the Health System who embodies Dr. Martin Luther King's values and teachings, in cultural competence, health care disparities, or fostering an environment of inclusiveness, in accordance with the institution's mission and values.
Presented by UVA's Office of the Vice President for Diversity, Equity, Inclusion, and Community Partnerships, UVA's School of Nursing, UVA's School of Medicine, and the UVA Health System.
Criteria
The nominee/recipient must be a current student, faculty, or staff member at the University of Virginia Health System (Medical Center, School of Medicine or School of Nursing).
The nominee/recipient must have demonstrated a deep commitment and distinct passion for diversity at the Health System.
The nominee/recipient must exemplify leadership in cultural competence, health care disparities, or fostering an environment of inclusiveness.
Selection Committee
The selection committee for the 2021 Dr. Martin Luther King University of Virginia Health System Award included the following voting members:
Greg Townsend, MD; Associate Dean for Diversity, School of Medicine
Susan Kools, Associate Dean of Diversity & Inclusion School of Nursing
Mildred Best, M.Div., MSS, BCC; Director, Chaplaincy Services and Pastoral Education, Health System
Judy Pointer, MEd; Program Manager, SOM Office for Diversity
Leah Beard, Community Engagement Manager, SOM Office for Diversity
Kimberley Barker, Emerging Technologies & Digital Initiatives Librarian
Charles Lewis, Senior Telehealth Engineer
Past Award Recipients
2013 – Pamela Ross, MD
2014 – Michael Moxley, MD
2015 – Dorrie Fontaine, PhD, RN
2016 – Joel G. Anderson, PhD, CHTP
2017 – Fern Hauck, MD, MS, and Charles Lewis
2018 – Eric Carson, MD, and Max Luna, MD
2019 – Ishan Williams, PhD; Preston Reynolds, MD; and Franck Azobou Tonleu
2020 – Randolph Canterbury, MD