Message from the Chair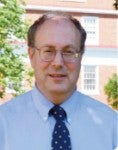 I hope all of you had a wonderful holiday, and the opportunity to spend time with family and friends. This month in Medicine Matters we highlight the Division of Hematology-Oncology; pay tribute to Dr. Robert Carey, who retired from the faculty last month; and celebrate a number of faculty achievements, including several … [Read More...]
Top News
By Zhenqi Liu, MD When Bob Carey informed me several months ago of his decision to retire on December 24, 2014, I began to reflect on my long association with him – one that began in 1991, when I joined the Division of Endocrinology and Metabolism … Read more
Faculty Profile
I've been at UVa for six years. I moved here for my Internal Medicine residency, stayed for my Hematology fellowship and joined the faculty in July 2013. I live in Charlottesville with my husband Rich and my beagle Jemma, the World's Greatest Dog. Why healthcare? I became a physician because I enjoy helping people and I'm nosy and a bit bossy. As a doctor you are allowed to ask people all kinds of personal questions and provide advice with impunity. Hematology drew my interest because the science of coagulation is interesting to me; I like the diagnostic challenge of bleeding and clotting … Read more
Staff Profile
I was born in Roanoke, Virginia, and grew up south of there in rural Franklin County. I obtained my degree in nursing from Radford University, and have spent most of my career as a research coordinator in the fields of neurosurgery, women's health and oncology.  I began my career as an operating … Read more
News and Notes
For patients with lymphoma and chronic lymphocytic leukemia (CLL), promising new clinical trials are underway at UVA — trials made possible by work being done in UVA's own labs. "So far, the results of these new drugs for patients who have not responded to traditional chemotherapy have been dramatic — in most cases with very few side effects," says Michael E.
Read more...
Hematology-Oncology's Stem Cell Transplantation Program has taken a significant step on the road towards certification from the Foundation for the Accreditation of Cellular Therapy ("FACT"). FACT is an accrediting agency that evaluates all quality aspects of cellular therapy and cord blood banking, including collection, processing, and administration. Accreditation by FACT signals to transplant physicians and patients, as well as insurance companies and government agencies, that the certified program meets or exceeds professional standards in this field.
Read more...
Craig Portell, MD, was selected as a Lymphoma Research Foundation (LRF) scholar in the LRF's Clinical Research Mentoring Program, for his project, "Multi-institution Phase I/Ib study of ibrutinib with ABT-199 in relapsed/refractory MCL." This is a competitive program which provides mentorship over the course of two years for a proposed clinical trial.
Read more...
The Department of Medicine is now accepting abstracts for the Carey-Marshall-Thorner Scholars and Research Day. This annual event, which provides DOM trainees with an opportunity to showcase their research, will take place on Wednesday, May 6, in Jordan Hall. All DOM residents, fellows and post-docs are invited, and encouraged, to submit abstracts.
Read more...
Fellow Profile
January 12, 2015 By Jane Perry
Morgan O'Brien and husband Dan. I'm from Northern Virginia and have lived most of my life in the Old Dominion state, aside from short stints overseas.  Don't tell anyone, but I did my undergraduate degree at Virginia Tech — like many in my family before me. My grandmother, who studied mathematics and physics there, married my grandfather at the campus chapel (he got his degree in Engineering from VT).
Read more...
Resident Profile
January 12, 2015 By Jane Perry
Andrew Barros, with wife Diane and their baby daughter. I grew up in the Northern Virginia suburbs — Fairfax to be exact — and came to UVA for my undergraduate degree, studying computer science. While here, I rediscovered by childhood love of fire trucks, and volunteered as a firefighter and paramedic.
Read more...
Notable Achievements
Alan C. Dalkin, MD, a faculty member in the Division of Endocrinology and Metabolism since 1991, and Vice Chair of the Department of Medicine, has been appointed a Harrison Distinguished Teaching Professor of Medicine. His election to the endowed professorship was effective September 2014. In announcing Dr. Dalkin's appointment, Endocrinology division chief Zhenqi Liu said: "Dr.
Read more...
Christopher Kramer, MD, Ruth C. Heede Professor of Cardiology and Professor of Radiology Christopher Kramer of the Division of Cardiovascular Medicine will be honored with the 2015 Gold Medal Award from the Society for Cardiovascular Magnetic Resonance (SCMR), the premier professional organization in the field, at its annual meeting in February.
Read more...