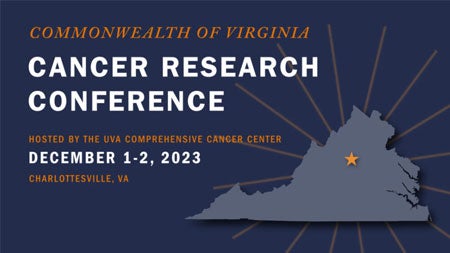 Members of UVA's cancer research community are invited to join other researchers in the field from across the state on Dec. 1-2 for the Commonwealth of Virginia Cancer Research Conference (CVCRC), hosted this year by the UVA Comprehensive Cancer Center.
The CVCRC convenes every two years to highlight studies at the forefront of cancer research. Faculty researchers and trainees present novel research encompassing a wide array of scientific approaches and fields, from basic, translational, and clinical research to community and population health.
The CVCRC was founded by the UVA Cancer Center, with the first meeting occurring in Charlottesville in the fall of 2017.
"CVCRC plays a key role in the Cancer Center's educational mission," says Amy Bouton, PhD, Professor of Microbiology, Immunology, and Cancer Biology and the Associate director for Education and Training in the Cancer Center. "Trainees at all levels, and new faculty in the Cancer Center, are encouraged to submit abstracts, and those selected will have the opportunity to deliver a platform talk on their work and a poster. This provides opportunities to interact with other researchers and establish collaborations that can foster new discoveries."
Among more than 100 anticipated presenters are keynote speakers Clayton Yates, PhD, the John R. Lewis Professor of Pathology at the Johns Hopkins School of Medicine and an expert in prostate cancer health disparities research, cell biology, molecular biology, and molecular pathology, who will deliver the event's DEI keynote address; and Howard Crawford, PhD, Scientific Director of the Henry Ford Pancreatic Cancer Center, whose research focuses on how communication between tumor and immune cells contributes to pancreatic cancer progression.
This year's event will be held at the UVA Darden School of Business. It begins Friday evening, Dec. 1 with Dr. Yates' keynote, followed by a reception and informal poster session. Saturday's program features Dr. Crawford's address in addition to concurrent breakout sessions for short platform talks, an awards presentation, as well as complimentary breakfast and lunch.
This conference is free for all registrants. Abstract submission and event registration are open until Wednesday, Oct. 11. To submit an abstract, register and for more information please click here. 
Have questions? Please contact Erin Erickson.