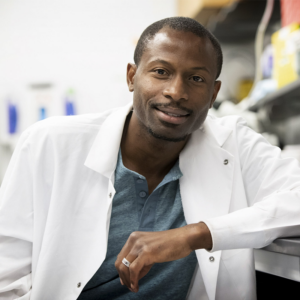 University of Virginia School of Medicine was one of six research institutions awarded an American Epilepsy Society (AES) grant to support summer research for an undergraduate student who identifies as a member of an historically underrepresented group in medicine and neurosciences. The grant is part of an AES pilot program for students interested in studying epilepsy as a potential career path and aims to deepen their commitment to medical or research careers, introduce them to the epilepsy community, and feature their work at the upcoming American Epilepsy Society Annual Meeting in December 2022.
Upkong Eyo, PhD, an assistant professor in the Department of Neuroscience, received the $10,000 AES grant and was paired with student research intern, Bridley Jenkins, from North Carolina Agricultural and Technical State University. Professor Eyo is researching microglia in neurodevelopment and neurodevelopment disorders.
Read more on Eyo Lab.
For information about the AES summer research program:
https://www.aesnet.org/about/about-aes/press-room/aes-announces-2022-summer-research-interns 
https://cms.aesnet.org/research-funding/summer-research-interns
Filed Under: Diversity, Equity & Inclusion, Honors & Awards, Research