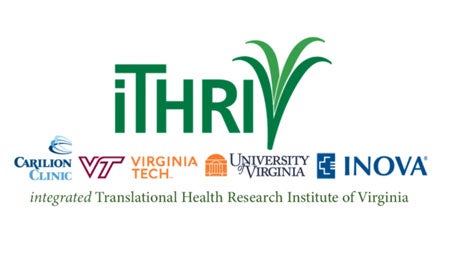 iTHRIV is accepting applications for its Inspiring Diverse Researchers in Virginia (iDRIV) 2024 cohort.
iDRIV has a foundational commitment to supporting the success of brilliant quality investigators AND also sees the crucial value of creating a network of diverse researchers in order to enhance our mission to improve human health. Diverse research teams have been demonstrated to boost creativity and productivity yet are lacking in our current scientific workforce. This program seeks to jump start and drive the research journey of early career and aspiring faculty at UVA through education, coaching, mentoring and sponsorship, designed to support those researchers who are nationally underrepresented in clinical and translational science.
The iDRIV program consists of 1.5-hour collaborative sessions which include a mix of presentations and panel discussions with opportunities for the participants to share their experiences. It will meet every other Tuesday from 2-3:30 p.m. beginning January 16, 2024.
Eligibility:
Participants must meet the following:
1. Clinical and Post-Doctoral Fellows, Clinical Instructor, Assistant Professor, and Early Associate Professor (<5 years)
2. Committed to a career in clinical or translational research
3. Meet the NIH definition of underrepresented persons in biomedical research NIH Definition
Applications are due by December 1, 2023.  Please visit the iTHRIV website for details and to find the link to the application
Filed Under: Call for Nominations, Research