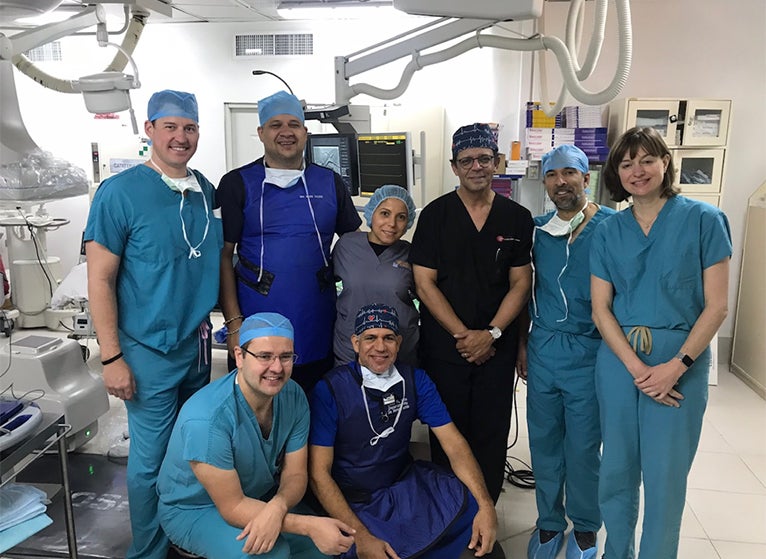 The distance from Charlottesville to the Dominican Republic is 1,423 miles. But UVA Health and this small Caribbean nation have forged close ties. Over the past decade, UVA cardiovascular experts have conducted multiple mission trips there to provide essential treatment for people with damaged hearts but limited access to healthcare.
Under the leadership of interventional cardiologist Scott Lim, MD, UVA first began mission trips there to provide lifesaving care to those whose heart valves were damaged by rheumatic fever (caused by untreated strep throat.) "Thanks in part to Dr. Lim and his Cardiovascular Global Health Program, rheumatic heart disease is not as significant a problem in the Dominican Republic as it once was, but a need for other lifesaving cardiac care remains," said UVA electrophysiologist Pamela Mason, MD.
"During the last 3 years, we have noted an increased prevalence of ischemic cardiomyopathy, hypertensive cardiomyopathy, and non-ischemic cardiomyopathy in the population, … putting the patients at risk for sudden cardiac death," notes Eliany Mejia Lopez, MD, who worked with Dr. Mason to coordinate a cardiac device mission trip to the Dominican Republic — her home country — while completing her electrophysiology fellowship at UVA.
Dr. Lopez added, "The patients screened for a defibrillator (device implant to regulate the heartbeat) live under the poverty line with limited access to healthcare, making a defibrillator cost-prohibitive. These events inspired the idea of creating a device mission trip to complement our interventional and structural missions."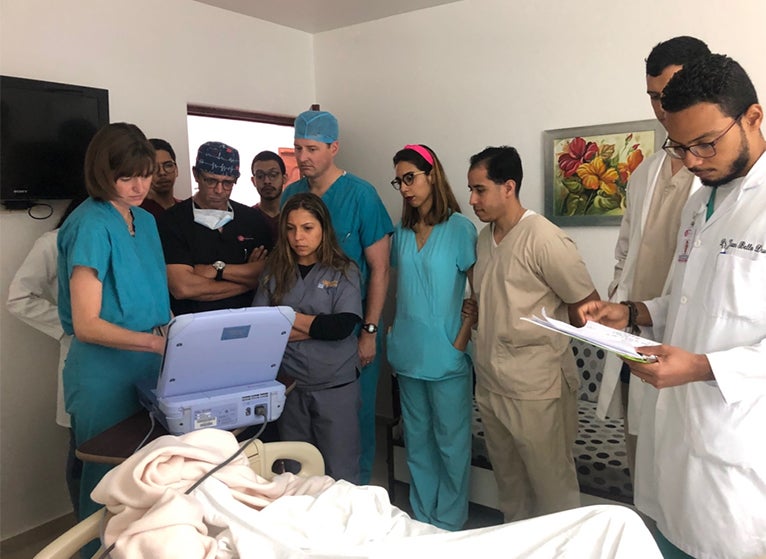 Dr. Lopez named the latest mission effort, Regálame un Latido, which translates to "Give Me a Heartbeat." During a three-day trip last May, Drs. Lopez and Mason were part of a team of UVA electrophysiology doctors (see below) that implanted 8 cardiac devices in patients at a hospital in the capital city of Santo Domingo. There were no complications with any of the eight patients, who will be followed by their local counterpart, Dr. Pedro Ureña from Heart Care Dominicana.
An important part of the mission trip, Dr. Lopez added, was to provide education to Dominican doctors, staff and students. "We were invited to give Grand Rounds at Universidad Iberoamericana (UNIBE), the largest medical school in the country," Dr. Lopez said. "We discussed management of complex cardiac device cases, from implant to high-risk extractions, and discussed the diagnosis and management of complex arrhythmias and ablation procedures."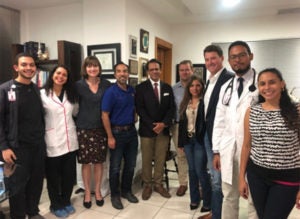 Dr. Lopez has since finished her UVA fellowship and returned home where she plans to keep close ties with her UVA colleagues, including Dr. Mason, Director of the UVA Electrophysiology Lab. "We're hoping to set up twice-yearly trips now that my fellow (Dr. Lopez) has graduated and moved back to the Dominican Republic to be one of very few electrophysiologists there," notes Dr. Mason, who donated her time and travel expenses as part of the mission trip.
This mission was made possible with medical equipment provided by UVA Division of Cardiology; free devices from makers Boston Scientific and Medtronic; and ongoing care with a Fundación Heart Care Dominicana grant.
Members of the Cardiac Device Mission Trip to Dominican Republic:
Dr. Pamela Mason, MD FHRS
Director of Electrophysiology Lab
University of Virginia
Dr. Rohit Malhotra, MD FHRS
Director of Arrhythmia clinic and Outpatient clinics
University of Virginia
Dr. Alan Johnson, MD
Senior Electrophysiology Fellow
University of Virginia
Dr. Eliany Mejia Lopez, MD
Senior Electrophysiology Fellow
Coordinator "Regálame un Latido" – Dominican Republic
University of Virginia
Filed Under: Clinical, Education, Featured, Media Highlights