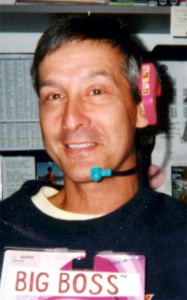 The School of Medicine mourns the untimely passing of our former colleague C. David Allis, PhD on January 8, 2023.  The way we think about epigenetics today was largely shaped by him and his team while he was a faculty member in the Department of Biochemistry and Molecular Genetics (BMG) at UVA from 1998-2003.  His seminal contributions have been recognized by his election to the National Academy of Science in 2006 and the 2018 Lasker Award among many other honors.  We are eternally grateful for his seminal contributions, his service to the UVA community and the lasting impact on our research mission.  Dr. Allis was not only a wonderful scientist but a humble human being, and a great colleague and mentor.  Two things stand out about him.  First, his unflinching passion and dedication to pursue basic science and work on chromatin when work on chromatin was anything but popular and second, his acknowledgments of his talented students and postdocs "who made the science happen over the years."  He said: "They are a big reason for any of my successes; they are the unsung heroes".
Patrick Grant, PhD, a faculty member in BMG from 2000-2020, was a close friend of Dr. Allis and remembers him with the following tribute:
"His research discoveries into the generation, function, and importance of histone modifications were unparalleled. It was a privilege to witness this first hand. His seminal Nature publication proposing a "histone code" was penned on the 6th floor of Pinn Hall by David and his postdoc Brian Strahl and has been cited many thousands of times. It struck me how Dave never failed to acknowledge the contributions of his collaborators and trainees through the years and his great humility as he won one after another of the most prestigious scientific accolades across the globe. He had an innate ability to easily explain his work to a broad audience, but also a highly contagious energy and enthusiasm for epigenetics research. I remember his excitement of sharing a FASEB meeting report entitled "The nucleosome: from wallflower to Queen of the Ball". Without question he was one of the most influential people to elevate our understanding of the prominence of nucleosome dynamics in gene regulation and disease. Beyond everything Dave was a fantastic mentor, colleague, and together with his wife Barb a dear friend. He never failed to ask about our family or to give updates on his own family, bursting with pride. He also always made time to provide mentorship, holding joint lab meetings and sitting on student committees, despite an already hectic schedule. This continued long after his departure from UVA to Rockefeller University in 2003, including he and Barb hosting us when we visited them in Princeton. Aside from his warmth, kindness, and optimism, Dave had a sharp wit, interjecting humor in almost any situation. This included his creative gag gifts for invited speakers or lab members, his regular updates on his protocol to gain line of sight of a huge black snake that had taken up residence in his Charlottesville garage, or his amusement of not realizing that he was sitting with famous singer Christina Aguilera when he received the esteemed Breakthrough Prize in Life Sciences. It came as a great shock to hear of Dave's passing. We lost a brilliant scientist, but an even more impressive human being. He left an indelible mark at UVA and beyond."

Article written by Anja Katrin Bielinsky, PhD, the chair of the Department of Biochemistry and Molecular Genetics and Patrick Grant, PhD, a faculty member at Florida Atlantic University College of Medicine.
Photos of Dr. Allis in his early years at UVA and the chalk board, an early model of Allis' famous "histone code", were contributed by former colleagues.
Filed Under: Community, Media Highlights