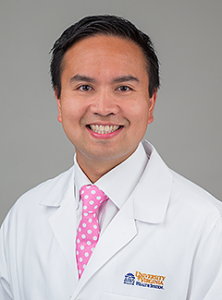 Michael Mendoza, MD
Assistant Professor, Pediatric Gastroenterology, Hepatology, and Nutrition
What is your proudest/greatest achievement outside of the professional realm?
Getting married and having a child.
What are you usually doing on the weekend or during time off?
Washing the cars, mowing the lawn, cooking meat on the braai.
What is the best advice anyone ever gave you?
One of my attendings during fellowship told me during inpatient rounds…"It's not how often you are right, but more importantly, how often you can accept being wrong."
What about you would surprise us?
If I was just 6 inches taller, I think I could have played college basketball.
In each Kids Matter edition, we will feature a new team member. Stayed tuned!
Filed Under: Features
Tags: mvm4p