From Dr. Nataro: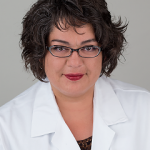 Please welcome R. Emily Gonzalez, PhD, HSP, to the UVA Children's Hospital in the Division of Developmental Pediatrics, Section of Child Psychology!
Dr. Gonzalez received her undergraduate degree from the University of Maryland Baltimore County, and her M.A. in clinical psychology at Loyola College in Maryland. She then received her PhD in clinical psychology from the State University of New York at Albany, and did an internship in clinical psychology at University of Miami Miller School of Medicine (Mailman Center for Child Development). She completed a post-doctoral fellowship in Youth Forensics at the DC Commission on Mental Health Services. She has practiced as a clinical psychologist since that time, serving as Assistant Professor of Child Psychology at James Madison University and Tufts University; while at Tufts, she served as both private and school-based psychologist in Amherst MA.
Dr. Gonzalez (who goes by Emily) is an accomplished academic clinical psychologist who is skilled in both primary psychologic disorders as well as psychological needs of children with illness. She has particular interest in anxiety disorders and the needs of economically disadvantaged patients. Please join me in welcoming Dr. Gonzalez!
Filed Under: Recognition