by Dr. Jonathan Swanson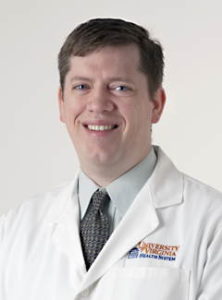 Last year, the UVA Children's NICU and the Division of Neonatology were once again recognized by the annual US News and World Report Best Children's Hospital survey as having one of the nation's Top 50 neonatology programs. This was the 7th year in a row that the program has been recognized, receiving its initial honor in 2013 when UVA Children's first participated in the survey.
The Division of Neonatology and the NICU have utilized the Best Children's Hospital Survey as a framework for improving care processes and outcomes. In the middle of 2014, NICU leadership noticed a significant uptick in the number of unplanned extubations with a peak rate of 1.5 extubations per 100 ventilator days. Using Lean methodology, leadership, and bedside clinicians worked together to focus on several areas for improvement. The improvement team developed standard work for endotracheal tube stabilization and since then has lowered the rate to 0.5 extubations per 100 ventilator days, well below national benchmarks.
Other improvement projects that the Neonatology program has focused on include reducing breastmilk mis-administrations (going over 6 years without an event), central line associated blood stream infections (rates continuously <0.5 infections per 1000 ventilator days), and reducing the incidence of severe intraventricular hemorrhage in very low birth weight infants (with current rates <5% in fiscal year 2021).
In addition to Neonatology, other programs from UVA Children's in 2020 that were ranked included Pediatric Cardiology & Heart Surgery, Pediatric Diabetes & Endocrinology, Pediatric Orthopedics and Pediatric Urology.  "Providing high-quality, specialized care for our youngest patients requires a tremendous team," said James Nataro, MD, PhD, MBA, chairman of the Department of Pediatrics at UVA. "I'm proud to see their commitment recognized nationally by U.S. News."
"I want to congratulate our team at UVA Children's for earning these awards," said K. Craig Kent, MD, UVA's executive vice president for health affairs. "These national rankings highlight our commitment to providing the best care for children from across Virginia and the region, as well as our commitment to finding new and better ways to provide this essential care."
Some of the novel approaches to care that have been introduced to the NICU this past year include the use of bedside virtual visitation with AngelEye Cameras and the introduction of Pediatric/Neonatal Inpatient Hospice Care with our Pediatric Palliative care program. We look forward to sharing these developments with you in future stories.
Filed Under: Features, What's New
Tags: jrs3yc