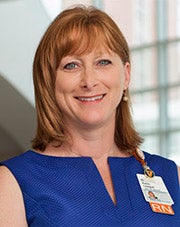 Dear team,
Several changes have taken place recently and you may be wondering about the status of UVA Children's and reporting structures. I'd like to share a few structural changes to help clarify. These changes are part of the UVA Health Bridge Plan. This plan represents the path that will take us from where we are today to becoming a more contemporary health system.
It's an exciting time for UVA Children's as we work together to:
Improve care for our patients
Create greater consistency in our operations and processes
Position UVA Health for sustained success
Although these changes may not feel different to those on the front line, there are some structural changes for Children's Hospital meant to create better alignment. These changes include:
Children's Hospital is now separate from Women's Services as a service line. (The two service lines will continue to work together.)
The Women's inpatient unit continues to report up through Debra Owens to Mary Dixon. Debra has a dotted line to Mary and a solid line to Children's.
The Women's outpatient clinics now report to their new Director Rachel Nauman, who reports to the interim Chief of Ambulatory, Kimberly Daniels.
Children's Hospital inpatient areas report up through Debra Owens to Karin Skeen.
Children's ambulatory clinics report up through their managers to Teresa Green and Karin Skeen.
Karin reports directly to Wendy Horton, CEO.
Jim Nataro, and Billy Petersen, and I will work with Wendy Horton and others to define the ultimate structure for UVA Children's. Our goal is to be inclusive and offer opportunities for everyone's voice to be heard.
Here is a presentation that outlines the structure and the Bridge Plan website for more detailed information. Please reach out to me if you have any questions or would like to talk through these changes.
I look forward to building a successful future with you all,
Karin
Filed Under: Features