Liz Shifflett, Chief Operating Officer, Department of Pediatrics
Q: How are you facing the impact of Covid-19 with the team?
A: When it became clear that the Corona virus was a real situation and we deployed the staff to work from home, we turned our focus to creating a culture of gratitude, communication, and positivity.
Gratitude for the providers: Our providers were the ones on the front-line taking care of patients. We started by putting signs on their doors that said, "We're thankful for you".
Communication: We really tried to commutate through the whole experience. We sent information as it came in, complete or not, so the staff and faculty knew what was going on. Things were moving so quickly and decisions had to be made so fast, so we'd share the information we had in real-time.  We knew that uncertainty was the hardest part for everyone.
Positivity: We started a new recognition program and a winner was picked from our weekly kudos. Winners had their choice of prizes, from online exercise classes to Starbucks gift cards. We planned for the department to pay for this, but with the financial situation, we'd couldn't afford to. I said I would pay for the winner every other week. So many staff members stepped up and continued to keep this program going (keep in mind, they all had salary reductions and/or furloughed spouses).
Q: What's going on now that team members are returning to work?
A: We value the team's health and contribution at work and want to make it as smooth as possible coming back. We've put a great deal of effort into preparing our space for the return. We created a "return to work" working group and we're covering all bases when it comes to safety.
Here are a few updates:
We have signs about wearing masks and wiping down spaces.
We created welcome packets that had 2 masks, wipes, and a daily scanner for health.
There are now floor leaders for each floor. These leaders keep everyone safe by making sure their floor is appropriately prepared and stocked.
In Salesforce, we expanded the "Peds Portal" to have a Covid-19 section with up-to-date information. Team members have an outlet to report any issues they're facing.
Q: How do you think the department has changed as a result?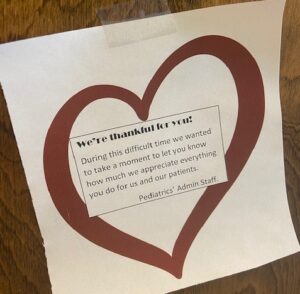 A: It's been a crazy time. We moved very quickly. We deployed over 100 staff members to remote work within a matter of two days. It was a tremendous amount of work, but we all pitched in and just rolled!
We focused on fairness. The approach the department took for mitigations was that everyone was treated fairly. It didn't matter if you were paid from a grant or not, everyone was given the same treatment.
The department has also been as accommodating as possible for health issues and childcare. Situations change week to week, and we know everyone is juggling many different priorities.
I really do think that the department has gotten closer. There is a huge sense of comradery with each other because of everything we've been through together. So many team members stepped up and did amazing things. That's a testament to Pediatrics.
Ann Kellams, MD, Professor and Vice Chair of Clinical Affairs, Department of Pediatrics
Q: What happens during a listening session?
A: A listening session is an open forum, in which participants are invited to respond to question prompts. For COVID, we were interested in hearing what everyone had to say about 'how is it going?' 'what is the hardest part?' 'what is helping you to get through this?' 'what are your biggest concerns—personal or professional?' 'what could we be doing to help make things feel better, safer, more comfortable for you?'
Q: How has this been received?
A: It has been very well received. One of the things you learn is that not everyone needs or wants to participate in a listening session, but the ones who do participate tend to be those who feel most connected and appreciated when they are able to process their thoughts in community—to be truly heard, to be able to hear from others, to feel validated.
Q: How many listening sessions did you do?
A: We have done a couple for faculty and a monthly session for staff. And, while not formal listening sessions, we have found that more frequent, regular meetings with medical directors and division heads has been really helpful in a bi-directional way, and we plan to continue these beyond COVID.
Q: Will this continue?
A: Yes, for as long as people would like for them too! Not all of our listening sessions have been about COVID. We also hosted one on gender disparities in academia, for example with Sue Pollart and the SOM Committee on Women's help. We are committed as a Department to making sure that everyone feels valued, respected, and heard. Listening sessions are one way to foster a sense of community, that we are all here for each other and we all care.
Q: What was the best part?/What did you learn?
A: It has been great to get to know people on a more personal level and share in the uncertainty and unsettled-ness of these times. We have had some great ideas from people, and also heard about some creative coping strategies such as perfecting a brisket, sewing, paint by number, and zoom happy hours with friends.
Leah Daniel, Senior Financial Analyst, Department of Pediatrics
Q: Tell me more about how Telemedicine is working.
A: When traditional clinic visits were suspended as a result of the pandemic, we thought that there would be a significant decline in clinical productivity. The reality is that our providers embraced telemedicine and we're leaders in telemedicine in the Health System! We (all of Pediatrics) finished June in almost the exact the same place as last year at this time with just under than 27,000 wRVUs (only 1% below). Without telemedicine, we would have been closer to 12% below last year's wRVU volumes.
For the Medical Center, there were 57,000 telemedicine encounters. Women's and Children's accounted for 10,640. Of those, Pediatrics was 4,700. Our leader in Peds was Neurodevelopmental and Behavioral Peds with 1,832 encounters. We looked at the data and said, "No wonder you're tired!" Our team on the front line worked SO hard.
I'm so proud of our coding team – they were meeting with the Department of Medicine weekly, doing daily huddles, and consulting with UPG leadership to understand all the coding changes related to telemedicine. Their role was critical and stressful, yet they handled it so professionally.
Overall, it was a really tough time going through Covid and the financial mitigations, but seeing each person contribute to getting through the situation was inspiring.
Laura A. Shaffer, Ph.D., ABPP, Associate Professor of Pediatrics, Section Chief of Pediatric Psychology
Q: We heard the numbers from Leah on Telemedicine. Tell me about your/your department's experience as a provider.
A: Our pediatric psychologists were seeing close to their full clinic schedules by telehealth within 2-3 weeks of the transition out of in-person visits in the Battle Building. The developmental pediatricians and nurse practitioners also ramped up quickly so that we were all able to continue providing services for children and families by video conference and telephone. Teams worked quickly to develop online assessment protocols and caregiver instructions to facilitate activities for children to do at home while clinicians observe by video. We've been able to continue providing our full complement of services from assessment to medication management to psychotherapy via telehealth throughout the spring and summer. It has really been remarkable! I'm very proud of our team.
Q: What was the most significant hurdle/change for your department to make this happen?
A: Hands down the technology. Early on, there was a scramble to be sure everyone had the equipment they needed to provide telehealth services from their homes or offices. There was also a lot of debate about what platform to use and variability in what we were all using. Technology has also been a barrier to patient access because a number of the families we serve do not have the equipment or internet access to support video visits, and those that do sometimes struggle with figuring out how to log on for appointments. As clinicians, we sometimes spend a substantial part of the session on the phone with caregivers trying to help them log on and then lose valuable clinical time.
Q: What was the most rewarding part?/Any stories that stood out?
A: The capability to provide telehealth services in people's homes has brought a number of delights in addition to the challenges. One obvious perk is the benefit of seeing family members and joy of meeting pets we would not normally get to see in clinic. Also, those of us doing behavior therapy have been afforded the valuable opportunity to conduct interventions in children's home environments. For example, now when I'm working with a child who is anxious about sleeping in his or her bed instead of a parent's bed, we can role play using coping strategies in the child's actual bed instead of on a loveseat or bench in clinic.
Q: Will this continue to shape your work/change the future of care?
A: Absolutely! Telehealth services will remain an integral piece of services we offer in Pediatric Psychology and Neurodevelopmental and Behavioral Pediatrics. The developmental pediatricians were already providing some remote services and psychologists were investigating possibilities before the pandemic hit. COVID accelerated our provision of telehealth services and now we make them an ongoing facet of services we offer. This will be of tremendous benefit given the shortage of pediatric psychologists and developmental pediatricians and nurse practitioners in our region.
 Q: Anything else you'd like to add?
A: Thank you to all our amazing faculty and staff for their flexibility, resourcefulness, and determination to keep services going for children with developmental and behavioral health concerns. These children and their families bear exceptional challenges with the disruptions caused by the pandemic. This team has worked hard to provide continuity of care and needed support in a rapidly changing environment. It's an inspiration and honor to work with them!
Filed Under: Features